LINCOLN, NEB. — If there's any doubt as to who the powers of the Big 12 North Division are, just look at the short history of the league.
Nebraska and Kansas State are the only two teams to represent the North in the Big 12's four championship games. K-State also is the only team in the division to beat Nebraska since four teams from the Southwest Conference and the Big Eight merged.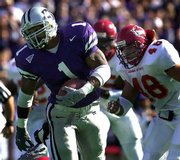 The No. 4 Cornhuskers and No. 16 Wildcats meet again with the North on the line today at K-State.
"They know what we're all about. We know what they're all about. There's nothing to hide," Nebraska guard Russ Hochstein said.
A win for Nebraska (8-1, 5-1) would lock up the division, even with a game against Colorado remaining. More importantly, it would keep Nebraska in the running for the national title.
Kansas State (8-2, 4-2) would need to beat the Huskers and finish the regular season with a win over Missouri, which is last in the division, if the Wildcats are to represent the North for the second time.
K-State's two losses eliminated the Wildcats from national title contention, but they can still spoil Nebraska's season. And after decades of futility against the Huskers, that would be the highlight of the season.
Two years ago, the last time Nebraska visited Manhattan, the Wildcats ended a 29-game losing streak in the series with a 40-30 victory.
"It was a little slap in the face after the game," linebacker Carlos Polk said. "They stormed the field and ripped down the goal posts and stuff like that. It's just something that sticks with you."
Nebraska got its revenge last season in Lincoln with a 41-15 rout and went on to win its second Big 12 championship.
Just a few weeks ago, today's game was to be a matchup between No. 1 and No. 2. That ended when both teams lost to Oklahoma, but the game is still getting plenty of attention.
After barely holding off Texas Tech 28-23 and losing the following week to Texas A&M;, the Wildcats rebounded last week with a 56-10 win over Iowa State.
K-State coach Bill Snyder isn't worried about his players' emotional level getting up for the game.
"If you are playing a Nebraska, on a scale of one to 10, I would probably have to put it at a 10," he said.
Copyright 2018 The Associated Press. All rights reserved. This material may not be published, broadcast, rewritten or redistributed. We strive to uphold our values for every story published.