The Israeli-Palestinian conflict is taking place thousands of miles away from Lawrence.
But for some people who live here, that bloody situation in the Holy Land strikes very close to home.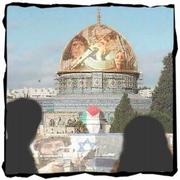 It touches them in their minds and their hearts.
Like Almas Sayeed, a 21-year-old Kansas University senior from Wichita.
Sayeed, who is Muslim, studied abroad from January to June at Birzeit University near the Palestinian town of Ramallah, a flashpoint for the recent violence.
While Sayeed was there, she studied the Arabic language and political science, taking a scholarly look at the Israeli-Palestinian struggle.
"I was so interested in the situation politically; that's one of the things that brought me to the West Bank," she said
In the last three weeks, two Palestinians she knew there have been killed in the conflict.
"One of them was caught in the crossfire of the riots that happened two weeks ago. His named was Nassir Ahmed. He was 20," Sayeed said.
"The second news I heard was incredibly overwhelming. My friend Marwan was pulled out of his car, beaten up and set on fire while people watched. He was an Arab who lived in Jerusalem."
These personal losses have taken a toll on Sayeed.
"I will say that it has been absolutely devastating. There's just not a whole lot I can articulate. It certainly gives me a lot of investment in the violence subsiding," she says.
Rajaa Abu-Jabr is a 27-year-old political science student at KU. She is from Gaza Strip, where her parents and four of her siblings are.
She's following the news of the violent conflict, and it pains her.
"I talk to my family regularly. It's really bad. I've had so many people here ask me what's happening, and I cannot even describe it," she said
Palestinians say that the Sept. 28 visit by hawkish Israeli politician Ariel Sharon to a disputed Jerusalem site holy to both Jews and Arabs was the spark that ignited the recent bloodshed.Since Sharon's visit to the Temple Mount, or Haram es-Sharif, more than 170 people have been killed the vast majority Palestinian.
"It's extremely disturbing. At this moment, there are no words to describe what is happening. I find it very surprising that the media in the U.S. finds it completely legitimate to find excuses for what the Israelis are doing to the Palestinians."
When will she see her family next?
"God knows. I was thinking about going home in the summer. But then I would be locked in Gaza by the Israelis and not permitted to leave."
Violence isn't the answer
Deborah Gerner is a political science professor at KU who has
PLEASE SEE Violence, PAGE 2D
Continued from Page 1D
researched the background of the Israeli-Palestinian struggle. She has written a book on the subject, called "One Land, Two Peoples: the Conflict over Palestine."
Gerner, who has visited the Middle East about two dozen times since the early '80s, taught at Birzeit University in 1996 while on a Fulbright scholarship.
"I've been devastated by the violence. As a person and as a Quaker, I'm a pacifist, so I reject the use of violence to settle disputes," she said.
"That's an unpopular and naive position to hold right now in the United States. But I am very much committed to the idea that violence is not the best way to get where we need to get to."
Gerner thinks there must be a solution to the fighting and dying over who controls the contested land, as well as access to places considered sacred by Muslims, Jews and Christians.
"I don't accept that people of good will and creativity cannot come up with a way to share Jerusalem," Gerner said.
"I'm not naive about the problems, and I'm very aware of how important those religious sites are. But no God in whom I could believe would support fighting over a piece of land, no matter how holy individuals hold it as being."
'A world problem'
Susan Elkins, program director for KU Info, is also following events in the Middle East closely.
Elkins and her husband, Jack Winerock, a professor of piano at KU, lived in a town about 20 minutes north of Tel Aviv for about six months in 1996.
Winerock was on sabbatical at that time. The couple are Jewish.
"I've been in Jerusalem and Ramallah, and I know people in both places. I met nice people who have families and are worried about their children and making a living. They're real people, and I don't know what's happening to them now," Elkins said.
"I think it's terrible for anyone who cares about the Middle East. I'm sure there are Christians who feel terrible, too. This is not just a Jewish problem, or an Israeli problem or a Muslim problem. It's a world problem."
Rabbi Judith Beiner, who serves the Lawrence Jewish Community Center, 917 Highland Drive, lived in Israel for a year in the late '80s.
Her husband's entire family has emigrated to Israel, a move that Jews call "making aliyah."
"I'm saddened by any violence and any loss of life, whether it be the Israeli or Palestinian side. I'm disheartened by what appears to be a cessation in the peace process," Beiner said.
"As Jews, we're all feeling frustrated by (Yassir) Arafat's inability to quell the violence, and I think we're also frustrated by his inability to be a true partner for peace."
The violence between Palestinians and Israelis that Beiner sees on the news is distant from her physically.
But with relatives living in Israel, the emotional distance Beiner experiences is much closer as it is for many Lawrence people with ties to the Middle East.
"I speak to my husband's family, and we e-mail frequently," Beiner said.
"My in-laws live in the middle of Jerusalem. If they stood out on their balcony on a quiet night and there was fighting, they could probably hear it."
Copyright 2018 The Lawrence Journal-World. All rights reserved. This material may not be published, broadcast, rewritten or redistributed. We strive to uphold our values for every story published.