Bonner Springs — If Bruce Breslow received a dollar for every time someone asked him if he'd "lost his marbles," he could retire.
It's not a question of sanity. People use the threadbare cliche because Breslow is co-owner of a marble company.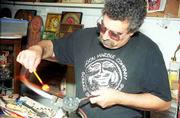 "People come here from all over the country," said Breslow, who started Moon Marble Co. three years ago in Bonner Springs. "It's unbelievable. I've had orders from Hong Kong, Yugoslavia and Australia. It amazes me that this is possible."
The business a combination homemade marble maker, retro toy store and furniture refinishing shop is rolling in a downtown warehouse off Kansas Highway 32, about a 20-minute drive east from Lawrence.
Moon Marble stocks toy marbles, handmade marbles, decorative marbles and collector marbles. It also sells wooden toys, games, birdhouses, gifts and novelty items in the 3,000-square-foot shop at 600 E. Front St.
Breslow said sales were increasing about 30 percent a year, although he acknowledges he doesn't really pay attention. He finally started collecting a salary earlier this year.
"I don't want to become a big manufacturer and employ hundreds of people," said Breslow, one of five employees. "We were asked to be in Union Station, but I don't see us branching out. I do see us franchising. I could see other stores in other parts of the country. It's important that children learn about marbles."
The business grew out of Breslow's furniture refinishing operation, called Bruce's Woodworks. A dozen years ago, Breslow needed some marbles for a wooden toy he'd made, but couldn't find the Boy Scouts and Bumble Bees he wanted.
He placed a "minimum" order from a West Virginia manufacturer and ended up with 12 cases, or 85,000 marbles. Breslow put some of the leftovers in the window, drawing a constant stream of customers.
Today he and his partner, Lynda Sproules, have more than 1 million marbles in stock, including a couple hundred of those Breslow makes on site. Lucky visitors from children learning marble games to seniors reliving the past can catch Breslow in action, working with his modified bead-making machine.
Some of his marbles already have been sent to the Smithsonian Institution in Washington, D.C., and the Corning Glass Museum in Corning, N.Y. One of his game boards is traveling with a fine arts glass show.
The shop is open 10 a.m. to 5 p.m. Tuesdays through Fridays, and 10 a.m. to 3 p.m. Saturdays. After Thanksgiving, he will expand the company's hours to 10 a.m. to 6 p.m. Tuesdays through Saturdays, and 10 a.m. to 3 p.m. Sundays.
"We'll have taught about 4,000 children how to knuckle down by the end of the year," Breslow said.
---
MORE: www.moonmarble.com
Copyright 2018 The Lawrence Journal-World. All rights reserved. This material may not be published, broadcast, rewritten or redistributed. We strive to uphold our values for every story published.