Still-confused voters could seek wisdom from the mouths of babes. But this election year the wee ones seem as befuddled or divided as everyone else.
Several Pinckney School students recently wrote Journal-World editors to seek political advice or stump for their favored candidate.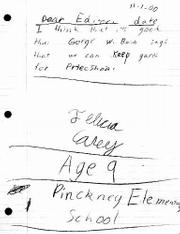 Years too young to vote, they expressed grown-up concerns often with creative spelling about issues ranging from school-choice and the environment to gun control and taxes. And at least one wondered why the electorate need bother changing president.
Francis Ontua Sepulveda Suarez, 10, said a constitutional amendment should be passed to allow Bill Clinton to remain in office.
"Why doesn't he get elected more time by telling Congress to give him more time to be the president of the United States?" Francis asked. "He's good at doing his job."
Chelsey Smith, 9, offered a novel gun-control stance embraceable by those who love guns and animals.
"We should have guns in the house for safety," Chelsey wrote. "We love animals, so no hunters with guns."
For Felicia Carey, 9, gun control also is the most important issue in the race.
"I think that it's good that Gorge W. Bush says that we can keep guns for protecshon," she wrote.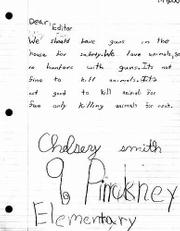 In favor of tighter gun control, Alex Tuckwin, 10, pledged allegiance to Ralph Nader's third-party candidacy.
"So I think Ralf Nator should be presedent and W. Bush wants guns to the public. And I don't want to die from someone that W. Bush gave the right to carry a gun," Alex wrote.
Nine-year-old Hannah gave no last name. But she referred to Republican candidate George W. Bush as "shrub" and Green Party hopeful Ralph Nader as "Ralf Nater." She asked editors to help her choose among candidates.
"I think Al Gore has better ideas for schools. And I also like Ralf Nater's idea," Hannah wrote. "Ralf Nater is going to keep the wild life and Al Gore and the "shrub" are going to use that place and going to put apartments there. Who should I choose?"
Terry Riley, 9, endorsed Bush because of the candidate's support of vouchers and school choice.
"We don't have a lot of money like some people, but I think we should be able to pick our schools," Terry wrote. "Because one school might be a bad school and you mom or dad might not like it. And vote Gorges Bush, because he try's to protet us. Only if you want it."
Tai Hamper, 9, endorsed the Texas governor's run for the presidency.
"I vote George bush," Hamper wrote. "He says he will cut more taxes than Gore."
Copyright 2018 The Lawrence Journal-World. All rights reserved. This material may not be published, broadcast, rewritten or redistributed. We strive to uphold our values for every story published.