A lot of musicians Bob Weir's age can be accused of milking the fruits of their salad days just for the bread. With Ratdog, Weir finds there's still meat on them bones.
Ratdog consists of Founding Grateful Dead member Weir on guitar and vocals, Rob Wasserman on upright bass, Mark Karan on guitar, Jeff Chimenti on keyboards, saxophone player Kenny Brooks, and drummer Jay Lane. Touring in support of "Evening Moods," Ratdog's first release, they amply demonstrated that they are much more a band, than a star and his sidemen.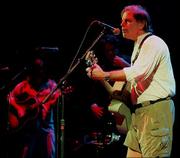 Weir controls the action and has the last word on the set list and conducts the band's exits from extended jams. He's said, Ratdog is a democracy, he just gets two votes.
The show began with Wasserman accompanying Weir on his 1978 single "Bombs Away." They continued with the first of numerous songs taken from the Grateful Dead's catalog, "Mexicali Blues."
The remaining players then joined for the duration of the set. Weir's lament to a lover on the lam, "Looks Like Rain" was followed by "Shakedown Street," which segued seamlessly into a syncopated arrangement of Bob Dylan's "Maggie's Farm," after which the band jammed their way back into "Shakedown Street" once more.
Weir then led the band through the first of the songs they would perform from "Evening Moods," the mid-tempo rocker "Bury Me Standing." Chimenti shone during his extended piano solo during the old blues number "Good Morning Little Schoolgirl."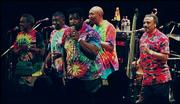 "Ashes and Glass," another new song featured an brilliant, improvised group jam that led the band into the dead's "Estimated Prophet," with its own extended jam which featured an incendiary solo by guitarist Karan.
The last of three new songs performed was "Welcome to the World," a lovely kind of prayer for the newly arrived.
The set finished with one of the Grateful Dead's trustiest pairings, "China Cat Sunflower," and "I know You Rider." As is their due, these songs featured an immense connecting jam, and the set finished with a climax. For an encore Weir chose "Sugar Magnolia," and everyone in attendance left smiling.
Opening act, The Persuasions is touring in support of their new release "Might As WellThe Persuasions Sing Grateful Dead." As such the a capella group with 38 years together could not have found a more receptive audience. Among other song's, their set featured beautiful treatments of the Dead's "Ripple," and "Brokedown Palace," and such classics as the Drifter's "Under the Boardwalk."
Copyright 2018 The Lawrence Journal-World. All rights reserved. This material may not be published, broadcast, rewritten or redistributed. We strive to uphold our values for every story published.