Vieques, Puerto Rico — U.S. Navy practice bombings, Puerto Rican politics and environmental lawsuits have brought Vieques an agitated sort of fame. But look beyond all that, and you may find a laid-back little island trying to carve out a calmer niche as a tranquil tourist destination.
"Not a lot happens here but then that's why we like it," says visitor Mark Perez, a 29-year-old native of Florida who lives on Puerto Rico's nearby main island.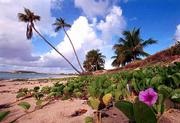 The pretty, undeveloped beaches and solid if basic services are an antidote to the stressful highways, casinos, malls and built-up seafronts of mainland Puerto Rico, he says.
Drawing tourists
Still, some locals hope the U.S. Navy which now controls two-thirds of the 21-by-4-mile island will leave and be replaced by a big-time tourist industry.
"We need big hotels and big piers so the big ships will come here and tourism will start for real," says 56-year-old "Viequense" Pedro Herrera, sweeping a sidewalk and staring out to sea as if willing the cruise ships to appear. "We need progress."
There also is a 25-minute shuttle flight from San Juan, the capital of this U.S. Caribbean territory of 4 million Spanish speakers.
For now, ferries and the occasional yacht traverse the eight miles of water from Fajardo, a Puerto Rican port whose El Conquistador resort alone has several times the 140 hotel rooms available in all of Vieques.
About 9,400 civilians live on the island, in the middle third. The eastern third is a bombing range and a munitions warehouse occupies the western end.
About 10 minutes' drive from Vieques' tiny airport lies the sleepy and dilapidated town of Isabel Segunda. Despite some decent lodging and restaurants, tourists seem inclined to head straight for the village of Esperanza, on the southern shore where the prettier beaches are located.
Information:
The Puerto Rico Tourism Co. is at 575 Fifth Ave., 23rd floor, New York, N.Y. 10017, phone (800) 223-6530 or (212) 599-6262.
On the Internet:
www.enchanted-isle.com/vieques/fyivieques.htm
has phone numbers for everything you might need in Vieques.
The most accessible are Sun Bay and Media Luna, both boasting curved stretches of yellow sand enclosing clear, turquoise, glasslike water. Farther along a coastal dirt road you reach the straighter Navio beach, with rougher surf and younger, hipper bathers.
There are few amenities beyond the occasional trash can hidden behind a palm tree.
Esperanza's seafront promenade ambitiously called "the strip" offers a few restaurants and inns where English is spoken and the atmosphere is relaxed.
"Somewhere else I could go to a big hotel and I could sit on their beach full of other tourists, and I could click my fingers and a waiter would bring me the same drink I'm drinking now except that I would have paid I don't know how much for it," observes Waldo Bird, a Puerto Rican savoring a self-served drink.
It's a fine place to catch a parade of the "paso fino" horses whose clip-clopping steps are, as the Spanish name suggests, exactingly dainty.
Those not content with watching can take kayaking, diving and snorkeling tours as well as a night excursion to the island's prized bioluminescent bay.
There, you can savor the magic of swimming in what looks like liquid stars while darting fish create an underwater fireworks display.
Effects of Navy presence
Back on land, some visitors seem only too aware of the controversy over the Navy's presence which bubbled over into mass protests after stray bombs killed a civilian guard in April 1999.
The Navy must leave, says Iliana Bird of San Juan, "just like the Berlin Wall had to fall." She fumes at the thought of finer beaches in inaccessible Navy territory. "Media Luna may look beautiful," she says, "but it is ugly compared to them."
James Weis, the president of the Vieques Chamber of Commerce and owner of the Blue Horizon Inn, says the flurry of U.S. media attention especially since a much-publicized eviction of hundreds of squatters from the Navy land in May "gave us the worst summer season ever." He says hotel room occupancy was less than a third during the summer half the normal rate.
"Some people didn't come because they were scared of getting arrested or bombed or contaminated and that's just ridiculous while others didn't come because they didn't want to go to a place with issues," he says.
"Things have been very bad," sighs fisherman Cristobal Medina. "We are struggling to make the Navy leave so we get our beaches back and so more tourists will come."
President Clinton has agreed to hold a referendum among the 10,000 people of Vieques on whether the Navy can stay and in any case there does appear to be some movement after years of stagnation.
Weis who expects a normal 95 percent occupancy for the winter high season is confident enough to plan a $16 million investment to turn his nine-room inn into a 60-room hotel.
New York City resident Robert Bramvilla commonly known in Vieques as "The Italian" has sparked interest by buying up land around Sun Bay. He also recently bought the Casa del Frances hotel, an airy wooden mansion from a former sugar plantation.
A $50 million luxury resort and golf course called Martineau Bay is currently in final stages of construction. With 156 rooms, it would more than double Vieques' capacity.
There is debate about what to do with 8,000 acres of land on the western end of the island, which the Navy is handing over in December. Two months ago, the municipality announced plans for a cruise ship dock and a free-trade area which triggered an uproar among some residents who don't want to turn the island into yet another duty-free tourist mecca. The plan since has been withdrawn.
Some wonder whether the Navy hasn't inadvertently saved Vieques from succumbing to an excessive development that might overwhelm its charms a fate not unknown in the Caribbean.
"I just hope these are all just plans, and that nothing will happen for a while," says Briton Anne Harrington, who visits every year. "It is so tranquil like it is we love it."
Copyright 2018 The Associated Press. All rights reserved. This material may not be published, broadcast, rewritten or redistributed. We strive to uphold our values for every story published.