The American Repertory Theatre is bringing Julie Taymor's "The King Stag" to the Lied Center for a performance at 8 p.m. Thursday.
"The King Stag" is a visually stunning work, with costumes, masks, puppets and movement by Taymor, the Tony Award-winning director of "The Lion King."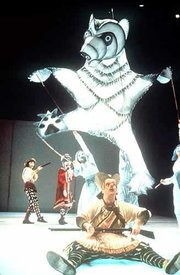 The tragi-comedy tells the story of a king who must reclaim his lost love after being transformed into a wild stag. The story is brought to life through such theatrical techniques as Indonesian shadow puppetry, Japanese bunraku, Italian Renaissance street theater and Balinese temple dancing.
In addition to winning the Tony Award for "The Lion King," Taymor also won a Tony Award for best costume design for the production.
The show is 90 minutes with no intermission. Tickets range from $16 to $38.
Tickets are available at Lied Center Box Office, 864-ARTS; Murphy Hall Box Office, 864-3982; Student Union Activities Box Office, 864-3477; KU Medical Center Bookstore; and Ticketmaster outlets, (816) 931-3330.
Copyright 2018 The Lawrence Journal-World. All rights reserved. This material may not be published, broadcast, rewritten or redistributed. We strive to uphold our values for every story published.