Franda Flyingman can't find enough good things to say about Tom Stidham.
"He's the most wonderful man in the world," she said.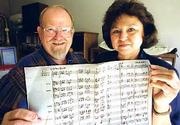 Stidham, a music professor who's best known for leading the pep band during Kansas University basketball games, admits he did a favor for Flyingman's father a few years ago. But that hardly makes him a saint, he said.
That favor, however, Flyingman said, has come to define her father. It's who he is.
"He put so much happiness in my dad's life, I don't know that I can find the words to let the community know how we much we appreciate this man," she said. "To me, he represents everything that is kind and caring about Lawrence and KU."
Flyingman's father, Frank Kaubin, 80, is a full-blooded Kiowa from Fort Cobb, Okla. Within his tribe, he is known as a composer of songs.
In the Kiowa culture, songs are more than music and words. They are an amalgam of prayer, honor and respect. They are gifts of the spirit.
So when a composer comes upon a song, it's taken seriously.
Oddly enough, a fight song came to Kaubin minutes after No. 3 Oklahoma defeated No. 1 Penn State in the 1986 Orange Bowl. The melody stayed with him for the next seven or eight years. Then, during a visit with his daughter's family in Lawrence, he went to KU for help.
"You have to understand that my dad is just the nicest, quietest, most gentle person you'd ever want to meet," Flyingman said. "And he's this little old Indian man who doesn't know anybody up at KU. He doesn't even know what building the music department is in.
"That was the most marvelous day of his life."
Franda Flyingman, composer's daughter
"For him to go up there and do this all by himself is just unbelievable."
Kaubin found his way to Murphy Hall, where he told a student receptionist that he hoped someone could write an arrangement for a song he had in his head.
Stidham happened to be in his office.
"From time to time, we'll have somebody come in who has a song they want help with, but they're usually students and, most times, the material isn't as good as they think it is," Stidham said.
"But this time, I went out to find an older gentleman who had a song that actually (was) a pretty good little fight song."
On his own time at home, Stidham wrote an arrangement melody, harmony and countermelodies for a 17-piece band and recorded a demo tape for Kaubin. All at no charge.
"I helped someone realize a dream, and I got a friend out of the deal," Stidham said. "That was enough for me.
"And I didn't get it done right away," he added, apologetically. "He had to bug me about it."
Flyingman said she'll never forget the day Stidham gave her father the sheet music and cassette tape.
"That was the most marvelous day of his life," she said.
The second most marvelous day came a few years later when the Oklahoma University band played the song now titled "A Song of Victory" during a summer concert.
Kaubin, a diehard OU fan, had given the song to the university.
"For him, this was a very spiritual thing to do," said William K. Wakefield, OU's associate director of bands, who, like Stidham, didn't know Kaubin before he showed up unannounced.
"In Mr. Kaubin's culture a song is a gift, it's something you give to someone you want to honor," he said. "I recognize that, but it was catchy song that was a little different from other fight songs. I'm glad we played it."
Wakefield invited Kaubin to the summer performance, during which Kaubin was cited as the composer.
"That meant everything to my dad," Flyingman said.
Kaubin is in ill health and could not be reached for comment.
Thanks before leaving
After Christmas, Flyingman and her son, Chuck, 16, and daughter, Michelle, 15, will move to Albuquerque, N.M., to be with her husband, Darrell Flyingman, who recently started a job there with the U.S. Office of Indian Education.
"So often, communities do not recognize the kindness of people," she said. "But I do not want to leave here without letting Lawrence and KU know what a kind man Tom Stidham is.
"He helped my dad, who was a stranger to him."
Stidham's response to all this: "I'm glad I made him happy."
A true gift
Sharon Howell, pastor at First United Methodist Church, 946 Vermont, doesn't know Stidham, Kaubin or Flyingman. But their story, she said, "speaks volumes" about the true meaning of gifts, acceptance and art.
"First of all, I'm impressed by Mr. Stidham's willingness to receive this 80-year-old gentleman as an equal, and to share his God-given gift his music to turn this song into a reality," Howell said.
"And he did so without caveat, credit or financial gain," she said. "He was conduit for giving rather than for receiving, and by doing so he built a successful bridge between two cultures.
"Oh, my, what an accomplishment."
Copyright 2018 The Lawrence Journal-World. All rights reserved. This material may not be published, broadcast, rewritten or redistributed. We strive to uphold our values for every story published.