Campaign buttons have one purpose: to help get a political candidate elected.
Once the votes are cast, the buttons are useful only to collectors and historians.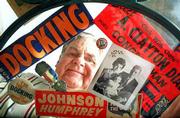 But lately maybe because it's an election year campaign buttons and other memorabilia are in the spotlight, and some are being sold for dandy prices.
A congressional poster for Vice President Al Gore being sold recently on eBay ran about $400, while a U.S. Senate poster for the Democratic presidential hopeful was about $200. Green Party items, Ralph Nader and Winona LaDuke buttons and Libertarian pins also are hot.
On the other hand, items from Texas Governor and Republican presidential candidate George W. Bush were being sold for "reduced" prices.
While the difference in prices between Gore and Bush memorabilia may not be a predictor of the outcome of the national election, the prices may be of interest to those who own campaign buttons and other political memorabilia.
Lawrence resident Clifford McDonald is a case in point. While not a "collector," McDonald has saved a few political mementos that belonged to his father, Frank McDonald, who was chairman of the Democratic party in Douglas County for 20 years and attended several national Democratic conventions.
"I save things because of nostalgia," he said.
Among the items:
A Christmas card from newly elected president, Sen. John F. Kennedy, which has a photo of Kennedy, wife Jackie and daughter Caroline on the cover. The inside is inscribed "Warmest regards, Jack."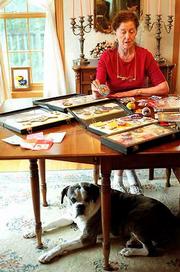 An alternate delegate medal from the 1960 Democratic national convention, which nominated Kennedy for the presidency.
A 1936 menu from Grand Central Terminal in New York City that was signed by Franklin D. Roosevelt Jr. and John A. Roosevelt, sons of president Franklin D. Roosevelt. Listed on the menu are sirloin steak and potatoes, $1.90; Russian caviar on toast, 65 cents; a pot of coffee, 25 cents; and a bottle of champagne, $7.
A Lyndon Johnson and Hubert Humphrey bumper sticker from the 1964 presidential campaign, and a hologram token that flashes back and forth between "LBJ" and "for the USA."
Dole-ing it out
While McDonald safe-keeps Democrat memorabilia, Phyllis Tiffany collects Republican buttons, bumper sticks and postcards. Tiffany is the Republican candidate for the 44th District state representative seat.
Tiffany began collecting political buttons and other souvenirs in 1987.
"This collection started when my husband, daughter and I attended the Republican Midwest Leadership Conference in Des Moines, Iowa, in 1987, primarily to support then-senator Bob Dole. We carried a variety of stuff home, which turned into a collection."
As she became more involved in Dole's campaigns, she collected more buttons.
"I created a hat and it became my goal to have enough Dole buttons to cover the hat," she said. "The hat became so heavy the brim covered my eyes ."
Tiffany's collection contains a 1976 button with the likenesses of Gerald Ford and Robert Dole that labels them as "The Underdogs"; a "Our Next Governor" campaign postcard for Arthur Capper, who served as Kansas governor from 1915-1919; and button that says "Clinton does the job of three men," which shows a photograph of the Three Stooges; and a Bob Dole $1 million dollar bill from the 1996 presidential campaign that says the note is "good for one new president."
Of growing value
Tiffany said most of her buttons are worth under $10. That's because none of them are rare.
Especially collectible are jugates, or pins with both presidential and vice presidential candidates on them. The most sought-after is the 1920 Democratic ticket of James Cox and Franklin Roosevelt, which runs for more than $50,000. Cox lost to Republican Warren G. Harding.
A 1941 Lyndon B. Johnson for U.S. Senate button with photographs of Johnson and Roosevelt's photographs recently sold for $10,000. Johnson lost the race to Texas Gov. W. Lee McDaniel.
A 1865 Abraham Lincoln funeral pin is valued between $500 and $5,000.
Charlie Hertlein, a Greensboro, N.C., resident who serves as regional vice president of the American Political Items Collectors, sees a strong interest in items from before 1960. But while John F. Kennedy items are consistently sought after, he said, there seems to be a renewed interest in former president Ronald Reagan.
"The price has gone way up on Reagan items," he said, adding that some Reagan items are selling for more than JFK buttons.
Copyright 2018 The Lawrence Journal-World. All rights reserved. This material may not be published, broadcast, rewritten or redistributed. We strive to uphold our values for every story published.