Hutchinson — A NASA official who helped design the new space station predicted Friday that humans eventually will live on the moon and on Mars.
Gary Kitmacher, space and life sciences directorate manager for the International Space Station manned operations at Johnson Space Center in Houston, said the technology for long-term life on the moon and Mars is in place.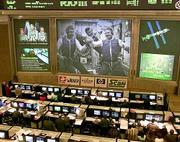 He said it would happen when politics and public interest allow it.
"The motivation when we do get that done won't be nationalistic goals," Kitmacher said during a workshop at the Kansas Cosmosphere & Space Center in Hutchinson. "It will be business and industry."
Kitmacher spoke to teachers about the history of the space race, with an eye toward the current space station mission.
The International Space Station is manned by one American and two Russians, who arrived this week for a four-month stay.
"Right now, it's the size of two or three school buses, but in time, it will be the size of a Boeing 747 and the length of a football field," said Kitmacher, who designed many of the interior systems of the space station and was the U.S. manager for joint space missions with the Russian Mir space station.
"It will become the brightest object in the sky after the sun and the moon, and people will be able to make out the shape of the International Space Station with a pair of binoculars or a telescope."
The space station, Kitmacher said, will enable scientists to perfect technology.
"We need to live and work in space for long periods of time," he said. "We need that technology to survive because we can't afford to use ships like these for just a few days or weeks at a time."
Kitmacher has served in several capacities in the Space Shuttle-Space Station Mir international program, led U.S. efforts to develop new systems and integrate payloads on Mir, and served as U.S. manager for Mir operations.
He has grown to admire the people behind the Russian space program.
"The Russian space systems, while technologically older 1970s stuff are very functional and rugged," he said. "They've shown us a very different way to do things."
Those systems are the product of a lot of old-fashioned engineering, minus the computers and research time that mark the American space program. As a result, the Russians are a valuable resource as long-term space life draws nearer.
"Let me tell you the difference," Kitmacher said. "We spend years and years in research, planning everything out on our computers. We have individual craft pieces machined by computers.
"Well, if the Russians want to build a spaceship, they build it like you're building a shed at your house. They'll haul an I-beam out and drill a hole in it, things like that.
"The result is admittedly crude, but it's very functional. Sometimes I wonder if we don't over-engineer our craft."
Copyright 2018 The Associated Press. All rights reserved. This material may not be published, broadcast, rewritten or redistributed. We strive to uphold our values for every story published.