A rat hangs crucified on a wooden cross while two other rodents look on. A flounder whispers in the ear of a fisherman. A woman sews a button to her cheek. A dwarf bangs on a tin drum.
The images are part of the legacy being built by Gunter Grass, one of the most provocative contemporary German artist-authors.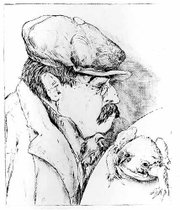 The etchings are part of an exhibition of his works, "A Writer's Vision: Prints and Drawings by Gunter Grass," showing at the Helen Foresman Spencer Museum of Art at Kansas University.
Grass, who won the Nobel Prize in Literature in 1999, is best known for his book "The Tin Drum," which was published in 1959 and caused quite a stir in Germany. The book is centered on Oscar Matzerath, a boy who refused to grow as a protest to the cruelties of that country's history.
Grass studied art before he began writing and illustrated many of his works with black-and-white etchings on paper.
"You can't separate the artist from the author," Cori Sherman, curatorial assistant at the Spencer Museum, said. " Whether it's art or writing, it's all ink on paper."
The exhibit features 52 of Grass' works done between 1972 and 1996. The works include several cycles of prints related to his books, including "The Tin Drum," "The Flounder," "Diary of a Snail," "The Rat" and "Too Far Afield."
Foundations for protest
Grass was born in 1927 in Danzig, Germany (now Gdansk, Poland). In the 1930s, he joined the Hitler Youth. He was drafted into the army at age 16 and was wounded in battle and imprisoned in 1945 in Czechoslovakia.
"He was rounded up and put in a camp by U.S forces," Sherman said. "The Americans made the soldiers walk through Dachau (concentration camp). That was his turning point."
What: "A Writer's Vision: Prints and Drawings by Gunter Grass."When: Through Dec. 30.Where: Helen Foresman Spencer Museum of Art, Kansas University.Museum hours: From 10 a.m. to 5 p.m. Tuesdays-Saturdays, with extended hours to 9 p.m. Thursdays, and noon to 5 p.m. Sundays.Special events:Thursday: Tour du jour by curatorial assistant Cori Sherman, 12:15 p.m.Dec. 3: "Gunter Grass: The Voice of a Lost Homeland and a Lost Generation," lecture by Wulf Koepke, 2 p.m.Dec. 7: "The Tin Drum," film, 7 p.m.
In 1948, he enrolled in the Dusseldorf Academy of Art, then later studied in West Berlin at the State Academy of Fine Arts. He worked on farms, in a potash mine and as a stonemason's apprentice before turning to literature and art. His first novel was "The Tin Drum." He also wrote plays and poetry.
In the 1960s, Grass became active in politics and worked as a ghostwriter for Willy Brandt, the leader of the Social Democrats, who was chancellor from 1969-1974. In the 1970s and 1980s, his topics began to center on feminism and ecology.
For example, "The Flounder" explores the development of civilization as a struggle between men's destructive dreams of grandeur and female accomplishment. In "The Rat," mutant rats take over a destroyed, radioactive Earth. His "Father's Day" cycle of works is about women who want to be like men, end up raping other women and then are destroyed by men.
In 1989-1991, Grass opposed Germany's reunification, which is reflected in "Too Far Afield" and his "Deadwood Trees" series.
"All of his novels deal with German identity, and the new identity after the failure of the Nazis," Sherman said. "He said, rather than hide the past, we have to remember it while looking at new ways (to move forward)."
What is means
Wulf Koepke, a retired German professor from Texas A&M; who lives in Boston, and Sherman said several motifs and symbols recur in Grass' works.
The flounder represents anti-feminism and the disastrous state of the Baltic Sea, Koepke said. The snail represents progress, which moves at a slow pace. The toad, often accompanied by Grass' self-portrait, represents the voice of ugly realism.
"There's lots of bones and decay," Sherman said. "He likes taking things down to the bare minimum."
Koepke said Grass uses animals and plants that are not usually valued, such as thistles, mushrooms, snails and rats.
"But there's still a lot of ambiguity beyond that," he said. "When he starts out, (his drawing or novels) may not have any meaning."
While his pen-and-ink drawings are in shades of gray, Grass doesn't like to be put in black-and-white situations. Koepke describes the artist-author as a "watchdog in social and moral terms."
"In Europe he is more of a public figure," he said. "Everyone likes to pounce on him, but he has a unique position in moral terms. He's a nonconformist and an independent, and he can speak out on any issue."
Copyright 2018 The Lawrence Journal-World. All rights reserved. This material may not be published, broadcast, rewritten or redistributed. We strive to uphold our values for every story published.