Dogs are people, too.
Betting that plenty of people in Lawrence feel that way and are willing to spend the extra money to pamper their pets, Janet Trombley is introducing the city to the hottest trend in animal care across the country: doggy day care.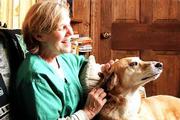 That's right day care for your pooch.
"I think people in Lawrence love dogs," says Trombley, 52. "I see them downtown with their dogs all the time. They want them to have exceptional care, and they'll go out of their way to get it."
Her new venture, Someplace Like Home Doggy Day Care, 2140 Haskell Ave., opens Monday. The building is the former home of Steve's Quality Meats.
Trombley thinks canine day care is a logical option for pet lovers. It just makes sense, she says, that dogs which are pack animals need activity and interaction while their owners are away.
"They're very social animals. They need to have fun. If they can't, and they're sitting in a crate all day, they're not leading a dog's life," she says.
Trombley knows all about dogs. She and her husband have 10 of them. She's also worked for the last six years as a veterinary technician at Hill's Pet Nutrition in Topeka.
Trombley thinks her business will provide the answer to canine loneliness and boredom while owners are away.
"While people are at work, their dogs can come and play, make new friends, and interact with humans."
Janet Trombley, owner of Someplace Like Home Doggy Day Care
"While people are at work, their dogs can come and play, make new friends, and interact with humans and other dogs instead of spending all day in a crate or a bathroom, waiting for their owners to get home," she says.
The concept of canine day care is just like day care for children: Owners drop off their dogs on the way to work and pick them up at day's end.
In between, the dogs get hours of supervised, structured fun playing with their furry peers, enjoying games, toys and a variety of special activities.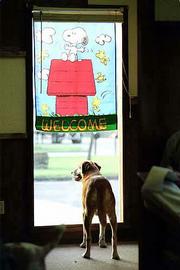 Don't laugh. Day care for dogs is a growth industry, a regular boomlet. A trend on the coasts for a few years, such businesses are sprouting up across the country.
Complementary canine care
And there are plenty of customers to keep them busy. With many people these days remaining single, putting off having children or not having children at all, pets become the focus of their love and nurturing just like children.
And the nation's 62 million dog owners are spending 35 percent more today pampering their pets than they did four years ago, according to American Pet Products Manufacturers Assn. Industry experts predict that by 2001, pet spending will jump to $28.5 billion.
Increased pet spending has spawned dozens of pet superstores and specialty retailers, such as PetsMart and Petco. Medical insurance for pets and magazines aimed at pet owners are growing in popularity, too.
The canine day care operations complement the growing trend of dog parks, dog bakeries and pet-friendly resorts popping up around the United States, according to Pet Sitters International, a North Carolina-based association.
Trombley's business is the first such day care operation in Lawrence, but there are others nearby. There's Dog Day Afternoon in Topeka and Pete & Mac's A Recreational Resort for Pets in Lenexa.
Owners of the area day care centers say they're almost unable to keep up with demand for their services.
"We have over 300 clients, as a total pool, for day care," says Julie Castaneda, of Dog Day Afternoon. "We have between 40 and 60 dogs for daily activities. We outgrew our 5,000-square-foot facility in our first year."
One of her clients, Tony Wolfe of Topeka, is sold on doggy day care. His 18-month-old German Shepherd, Romeo, has been a regular at Castaneda's business since he was just a pup.
Wolfe, manager of animal resources at Hill's Pet Nutrition, drops Romeo off at 7 a.m. and picks him up at 6 p.m.
"I spend between $180 and $200 a month. Romeo's active all day long, so when I come pick him up and take him home, he's not crazy. I can spend some quality time with him," Wolfe says.
Family approach
Someplace Like Home Doggy Day Care will charge an average of $15 per day for its dog clients. Trombley will offer discounts to owners who buy packages of 15 days or a month up front. Half days will cost $10.
The business will be open from 6 a.m. to 6 p.m.
Trombley is keeping her job at Hill's in Topeka, but she will work at the day care in the late afternoons.
Her son, Tim Trombley, 21, and two other employees will handle the business the rest of the time.
Janet Trombley is hoping to have 20 dogs enrolled at the day care within a year, reaching the per-day maximum. After that, she plans to start a waiting list.
She's confident that the concept of doggy day care will be a winner in Lawrence.
"More people are feeling like their animals are family," she says. "I feel like pets are my family, and people who will bring their animals here will feel the same way."
Copyright 2018 The Lawrence Journal-World. All rights reserved. This material may not be published, broadcast, rewritten or redistributed. We strive to uphold our values for every story published.