The Kansas University Symphony Orchestra has chosen the works of The Three B's Beethoven, Bach and Brahms for its next concert.
The concert will be performed at 7:30 p.m. Friday at the Lied Center.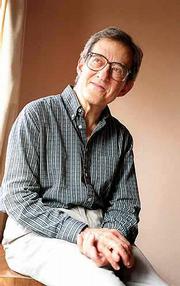 Not only will compositions by those major composers be featured, but the concert also will include performances by the KU Chamber Choir, the Continuo Group and KU piano professor Sequeira Costa.
Costa, an internationally known pianist and founder of the Lawrence-based Vianna Da Motta Music Foundation, will pair with the KU Symphony Orchestra for "Piano Concerto No. 2 in B Flat," by Johannes Brahms. Cellist Forrest Aubel will have a solo part in the work.
"It is one of the most difficult and demanding (compositions) of the piano repertoire," Costa said.
The work was first performed in November 1881, with Brahms as soloist. In the concert's program notes, Brian Priestman, director of the KU Symphony Orchestra, writes that the work is difficult to perform "not only because of its virtuosity, but also because the emotional, and indeed spiritual, insights of the music are complex to communicate. It has been said that it is the greatest of the 19th-century piano concertos outweighing even the first of Tchaikowsky's efforts in this form."
Costa recently returned from Warsaw, Poland, where he was a juror at the Chopin International Piano Competition. The contest takes place every five years. This year, 98 pianists from more than 25 countries vied for the first-place prize.
As a juror, Costa listened to the contestants play Chopin music for 10 hours a day for three weeks. The winner: Li Yundi, an 18-year-old pianist from China.
What: "The Three B's," featuring the Kansas University Symphony Orchestra, pianist Sequeira Costa and the KU Chamber Choir.When: 7:30 p.m. Friday.Where: Lied Center.Tickets: $5 for students and $7 for adults.Tickets on sale at: Murphy Hall Box Office, 864-3982; Student Union Activities Box Office, 864-3477; and Lied Center Box Office, 864-ARTS.
Costa, a native of Portugal, has lived in Lawrence since 1976. He founded the Vianna Da Matta Music Foundation four years ago to promote international competitions and to help prize winners who are almost forgotten secure recording and concert opportunities.
The rest of the show
Friday's concert will open with the symphony orchestra playing "Overture: Leonore No. III," by Ludwig van Beethoven.
Beethoven wrote only one opera, "Leonore," which was first produced in 1805 and revised several times afterward. The final revival of the opera came in 1814, for which he wrote a more restrained and shorter work. By that time, Priestman writes, the opera's story was seen as a reflection of the spirit that had culminated in Napolean's downfall and exile to Elba.
Simon Carrington, director of KU choral activities, will conduct the Symphony Orchestra, KU Chamber Choir and Continuo Group in "Magnificat in D, BWV 243," by Johann Sebastian Bach. Members of Continuo Group are Michael Bauer, organ; Marie Rubis, harpsichord; Lisa Katich, cello; Alison Gaines, bass; and Susan Nelson, bassoon.
Copyright 2018 The Lawrence Journal-World. All rights reserved. This material may not be published, broadcast, rewritten or redistributed. We strive to uphold our values for every story published.