Douglas County is crawling with young people. But here, as across the United States, it is the old who remain the most reliable voters.
"I think it means more to the older people. They feel that they have a duty to perform. If you don't vote, then you can't complain," said Don Blair, who will be the supervising judge Tuesday at the polling station at Brandon Woods Retirement Community, 1501 Inverness Drive.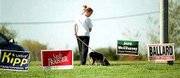 If past elections are a reliable guide, the Brandon Woods station will post the highest percentage voter turnout of any in Douglas County. It will be closely followed or matched by the turnout at the Mustard Seed Christian Fellowship polling place, 700 Wakarusa.
The two west Lawrence pre-cincts adjoin one another. Each is heavy with retirees. In the past three general elections, voter turnout in the two precincts ranged from 56 percent to 73 percent.
In the 1996 presidential race, 72 percent of 1,470 registered voters in Mustard Seed's precinct voted; 73 percent of 1,363 registered voters did so in Brandon Woods' precinct.
"I can't explain why we take voting seriously. But I never miss it," said retired Republican businesswoman Caroline Cummings, who votes at Mustard Seed. "It's what our country was founded on."
The county's lowest voter turnout usually is at downtown polling locations or near Kansas University.
In 1996, 48 percent of 1,225 registered voters in the precinct that votes at Central United Methodist Church marked ballots. The church is at 1501 Mass.
Fifty percent of the 1,399 registered to vote at KU's Allen Fieldhouse turned out.
"I can't explain why we take voting seriously. But I never miss it. It's what our country was founded on."
retired Republican businesswoman Caroline Cummings
Republicans outnumber Democrats in both the Brandon Woods and Mustard Seed precincts. In the 2000 primary election, 61 of the 382 registered Democrats and 242 of 766 Republicans voted at Mustard Seed. At Brandon Woods, 63 of 270 registered Democrats and 363 of 908 Republicans voted.
On Tuesday, Cummings said, she probably would vote for Republican presidential nominee George W. Bush. But she has voted across party lines.
"Both presidential candidates do seem to be addressing all age groups with medical issues and Social Security for older people, and they're approaching education for younger families," she said. "We are also interested in education because we have grandchildren."
Cummings, who attends Corpus Christi Catholic Church, said she didn't think the candidates' abortion views should be an election issue.
"I have to vote for the right to life because that's what I believe in. I think that is one of the important factors, but I don't think it should be in the realm of politics," she said.
Copyright 2017 The Lawrence Journal-World. All rights reserved. This material may not be published, broadcast, rewritten or redistributed. We strive to uphold our values for every story published.