The personal and philosophical differences of U.S. Rep. Dennis Moore and Kansas Rep. Phill Kline have already played out in contentious debates and television ads across the 3rd Congressional District.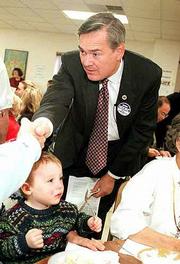 Kline accuses Moore of being soft on crime, despite his former job as the Johnson County district attorney.
Moore accuses his GOP opponent of using half-truths to distort his record, and says Kline who has built a reputation as a tax-cutting conservative of having a reckless plan for the federal budget surplus and not caring enough about the national debt.
Talking to both candidates as Tuesday's election approaches, another difference quickly becomes apparent: Kline is quick to link his candidacy to the presidential race, while Moore never brings up that subject and plays it down when someone else does.
"My record, my approach is very similar to Gov. George W. Bush's: meaningful tax reform and local control of education," said Kline, who won the August primary for the right to take on the freshman Democratic incumbent.
Kline envisions an outcome in which Bush wins, he wins to make Kansas' House delegation all-Republican again, and the GOP continues its majority in Congress.
"This is our first genuine opportunity in 48 years to have a Republican Congress and a Republican president," Kline said. "I think we have the possibility for progress, rather than trench warfare. I ask that the American public allow us two years to make a difference."
Moore, on the other hand, has separated his campaign from the White House race. His wife, Stephene, attended a Gore rally in Kansas City, Mo., last month, but Gore has made no commercials for Moore. The only campaign material that features both their names is a pro-Kline bumper sticker that reads, "No Gore No Moore."
Age: 40.Occupation: Radio show distributor and producer.Hometown: Shawnee.Education: Shawnee Mission Northwest High School; bachelor's degree, Central Missouri State University, 1982; law degree, University of Kansas, 1987.Personal: Wife, Deborah; one daughter, Hillary, 8.Political career: Republican nominee, 1986, 2nd Congressional District; Elected to Kansas House, 1992; re-elected 1994, 1996 and 1998.
Kline said that's because Moore wants to distance himself from Gore publicly, while privately embracing the vice president's agenda. Kline said that approach served Moore well in 1998, when he defeated GOP incumbent Vince Snowbarger.
"On close votes, he voted 90 percent of the time with Al Gore," Kline said. "When it counts, Dennis Moore strictly votes the Al Gore party line. Vince didn't have that benefit, of Dennis having a voting record."
But Moore, who said that the majority of those votes were on procedural matters, also said that he has always enjoyed widespread support from Republicans in Johnson County.
"I think Johnson County voters are more independent," he said. "Even though their numbers are heavily Republican, they do split tickets."
As proof, Moore cites his three successful campaigns for Johnson County district attorney.
"In 1976, when (Democrat) Jimmy Carter was running against Gerald Ford, I won my race in Johnson County, and Jimmy Carter lost Johnson County by 39,000 votes. Then in 1980 and 1984, Ronald Reagan carried Johnson County and I won Johnson County too. Each time, I've had to put together a coalition of moderate Republicans, independents and Democrats to win, and I've done that."
Kline has also worked with Democrats, however, and it cost him a powerful position in the Legislature.
In 1999, he was fired as House Appropriations chairman for working with Democrats to divert money to programs for the mentally ill and mentally retarded.
Age: 54; born Nov. 8, 1945.Occupation: Attorney.Hometown: Lenexa.Education: Graduate, Wichita Southeast High School, 1963; bachelor of arts degree, Kansas University, 1967; law degree, Washburn University, 1970.Personal: Wife, Stephene, a registered nurse; three sons, Todd, 27, Scott, 26, Andy 22.Political career: Assistant state attorney general, 1971-73; private law practice, 1973-76 and 1989-present; elected Johnson County district attorney, 1976, re-elected 1980 and 1984; Democratic nominee for state attorney general, 1986; elected to U.S. House, 1998.
"I've demonstrated much more independence than Dennis Moore has," Kline said.
Despite his differences with party leadership, Kline said he wasn't worried that moderate Republicans would defect to Moore's side as they did two years ago even though Gov. Bill Graves endorsed his moderate opponent, Overland Park City Council President Greg Musil, in the primary.
"Governor Graves endorsed us within 48 hours of the primary," he said. "I've had the honor of Bob Dole campaigning for me, and Governor Bush doing a radio ad for us. Governor Graves has done two fund-raisers for me. It's all been a positive response from the Republican Party."
But Moore said that while Republicans might publicly endorse Kline, he is still too conservative for most of them.
"You've got a whole list of Republicans who know him, who have worked with him, and who have grave concerns about him. He's way outside the mainstream," Moore said.
Copyright 2018 The Associated Press. All rights reserved. This material may not be published, broadcast, rewritten or redistributed. We strive to uphold our values for every story published.