For heaven's sake, is there anything about the Beatles we don't already know?
According to the Beatles: Yep. Nearly 400 pages' worth.
"The Beatles Anthology" (Chronicle Books, $60), which hit stores Oct. 5, is an exhaustive account of the most storied tenure in rock 'n' roll. It's all here: the studio quarrels, the suffocating effects of Beatlemania, the drugs, the girls, the music, the breakup. Billed as the Beatles' autobiography, it features the recollections of Paul, George, Ringo and John posthumously along with commentary from close associates of the band.
"It's the last word for the first time," says Beatles press officer Geoff Baker.
Like the "Anthology" projects that have preceded it a three-CD set, 10-episode video package and three-night TV documentary the book is painstakingly thorough, winding meticulously through the nervous system of the most important organism in pop history.
For fans, it's a godsend. A permanent coating of mystique surrounds the Beatles saga, and outsiders have tried for years to peel away the layers. More than 400 books have attempted to decipher and organize Beatles history, relying mostly on second-hand sources, mythological innuendo and well-worn tales.
Sweeping project
Of course, band aficionados might need to set aside a few days to wrangle the monstrous volume.
"It's the last word for the first time."
Beatles press officer Geoff Baker
In typical Beatles fashion, this thing is huge. Weighing in at 6 1/2 pounds, 10 inches by 13 inches and 368 pages, "Anthology" is laid out like an oversized scrapbook, crammed with text, photos and such periphery as old telegrams and legal documents.
The project proved titillating to the surviving Beatles themselves. Most of the book's copy comes from lengthy interviews with George Harrison, Ringo Starr and Paul McCartney, who told Publishers Weekly that the effort "brought us closer."
McCartney and Harrison have published autobiographies, but even those gave you the impression that the reticent stars were playing their cards close to the chest. "Anthology" at times brutally candid lays them down on the table.
"Even for us, it was surprising to talk about the past, because you don't do that in the band," McCartney says. "The early memories in the book are to me the most exciting, the parts about John especially, because I loved him and still do."
Showbiz and good biz
With 1.5 million copies printed and headed to stores in the United States, "Anthology" stands as the year's second biggest press run. "Harry Potter and the Goblet of Fire" tallied about 3 million copies upon release in July.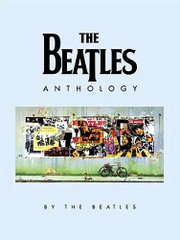 That's exciting news for the book biz, which views the $60 list price as a bargain for a glossy coffee table tome of this size. The hype train, predictably, is rolling at full steam.
"Chronicle is doing massive publicity for this," says Bridget Kinsella, book news editor for Publishers Weekly. "And the popularity of the Beatles is cross-generational this generation is discovering what the generation before it knew. We've lived with the Beatles legend for many years."
At the Borders Books & Music headquarters in Ann Arbor, Mich., executives are banking on a long-term shelf life for "Anthology." The chain's 313 stores will be doused in Beatles promotions through December, including contests, merchandising tie-ins and inescapable in-store displays.
"It's going to be huge," says spo-kesperson Kendra Smith, who notes the golden timing of the arriving gift season. "What's going to make this book so popular is that people are buying it to give to their friends, but they also want one for themselves. We've heard people saying they want two or three copies."
Private offerings
Interviews and editing for the book were wrapped up in 1996, edited by Beatles press agent Derek Taylor and packaged by a specialty publisher in London. But work was far from complete: As Beatles devotees have come to understand all too well, clearing the rights to Beatles material in this case more than 800 previously unpublished photos, many from the members' private collections can be a grueling exercise.
One potential speedbump turned out more smoothly than anticipated: Yoko Ono, notoriously difficult when it comes to Lennon's legacy, maintained minimal involvement in the process. Lennon's words are as prominent as his fellow Beatles', culled from dozens of existing interviews.
"I scanned it, but only the sections using John's voice," Ono told the Detroit Free Press last month. Though the book ultimately plays down the pesky notion that she was responsible for the band's breakup, Lennon's widow was careful not to immerse herself in old criticisms of her presence on the Beatles' scene. "Some of it still hurts," she said. "When it comes to dealing with John's Beatles' days, I have to keep my professional hat on."
A thick air of secrecy accompanied the book's prerelease life. At Chicago's Book Expo America in June, national retail executives were given glimpses of "Anthology" only after signing a nondisclosure release and being personally escorted to an off-site location.
To secure advance copies of the book, journalists were forced to sign two-page embargo contracts with Chronicle Books, agreeing not to print reviews until the Oct. 5 release. A letter from Chronicle asked reporters to "keep the book in a secure place and its contents a secret from everyone but you and your immediate staff."
The Beatles have long guarded their legacy with a jeweler's care. What "The Beatles Anthology" reveals is that the band is at last eager to display it, chipped edges and all, in front of the world.
Copyright 2018 The Lawrence Journal-World. All rights reserved. This material may not be published, broadcast, rewritten or redistributed. We strive to uphold our values for every story published.