Washington — Evan Rabinowitz, a 20-year-old college junior from California, has figured out the politics of special interests: If you show up at the voting booth, your issues get heard.
It's no wonder, he said, that the presidential candidates are talking about Medicare and Social Security and issues that affect the elderly. "Those are the people that vote," he said.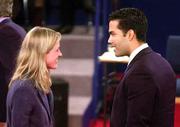 Therein lies the dilemma for younger voters. They don't tend to vote because Al Gore and George W. Bush don't talk about their issues; the candidates don't talk about their issues because teens and twenty-somethings don't tend to vote.
Political experts expect that voting by America's 18- to 24-year-olds will drop to an all-time low this presidential election the result of apathy, cynicism and a disenchantment with national politics.
"They don't see anything in either candidate that will make a major change in their lives," said Curtis Gans, director of the Committee for the Study of the American Electorate, a nonpartisan organization that studies national voting patterns.
Julia Cohen, executive director of Youth Vote 2000, a grass-roots voting drive for Americans under 30 years old, calls it a "mutual cycle of neglect."
It's not for lack of trying.
Gore's daughter, Karenna Gore Schiff, heads up Gorenet a grass-roots program directed toward young voters.
George P. Bush, George W.'s nephew and son of Florida's Gov. Jeb Bush, is spearheading the Republican campaign to raise youth interest. Both campaigns have elaborate Web sites, a popular medium among young people. And colleges across the country have student groups conducting get-out-the-vote campaigns.
Yet, for all that, many potential first-time voters find the candidates lacking.
For example, Youth Vote 2000 conducted a focus group of 18- to 24-year-olds during the third presidential debate Oct. 17 and found that most participants concluded that the candidates blew their chances to engage young people.
When asked by a college professor in the audience about apathy among younger voters and their belief that they were being ignored, Gore replied by discussing the importance of campaign finance reform and Bush talked about his desire to end the bitter partisanship in Washington.
Cohen of Youth Vote 2000 said her group's research identified five top issues that motivate young voters: higher education, hate crimes, affirmative action, the environment and reproductive rights. Though Bush and Gore have staked out positions on each of those topics, youth advocates say they have not made them meaningful to their lives.
Jehmu Greene, spokesman for Rock the Vote, a 10-year-old voter registration movement aimed at young voters, said the candidates have made some effort to reach out, "but that effort does not represent the size of the demographic of young people."
Indeed, 18- to 24-year-olds make up 20 percent to 25 percent of the population, and their presence in the election has the power to swing support in key battleground states. Since the 26th Amendment was ratified in 1971, lowering the voting age from 21 to 18, turnout among 18- to 24-year-olds has systematically dropped from 50 percent in 1972 to 32 percent in 1996.
To be sure, if there was ever a presidential election that affected young people's lives it was 1972 the days of the military draft and the Vietnam War.
Twenty-eight years later, one out of four young voters between 18 and 24 cannot name the major party candidates, according to a poll by MTV, the youth-oriented music channel. Those numbers match a recent American Express Young Voters Poll where one-third of the 16- to 21-year-olds polled could not name either major party presidential candidate and 75 percent couldn't name either vice presidential candidate.
"At 18, people don't realize how important voting can be," Soozie Klock, an 18-year-old from Fort Myers, Fla. "They're used to their parents making their decisions."
Copyright 2018 The Lawrence Journal-World. All rights reserved. This material may not be published, broadcast, rewritten or redistributed. We strive to uphold our values for every story published.