Lawrence High's Curtis Ledbetter is having such a splendid baseball season that the Sunflower League coaches had to create an award for him.
Ledbetter was recently named player of the year for the Sunflower League. Never before had the league coaches bestowed such an honor.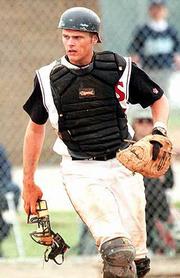 "They weren't sure if they wanted to do a player of the year," LHS coach David Petry said. "Then everybody was in favor of doing it and then they didn't even take a vote. The way they approached it was, 'Does anybody disagree that it is not Ledbetter'. Everybody said, 'No,' and that's how it went."
The coaches couldn't argue with Ledbetter's numbers. The LHS senior catcher, a two-time all-league selection, has set school records in average (.651), home runs (12) and RBIs (46) heading into this weekend's Class 6A state tournament at Hoglund Ballpark.
"Bill McDonald (Shawnee Mission South coach) and Don Perkins (Olathe South coach) both have been coaching awhile, and they can't remember anybody having a year like he's had," Petry said.
Ledbetter downplayed the award before Monday's practice as the Lions, ranked No. 1 in Class 6A with a 19-2 record, were preparing for Friday's first-round game against Wichita Heights.
"It's really not that big of a deal for me," Ledbetter said. "I had a goal this year to be the best I could be and help the team as much as I could. I've had a good year this year. I'm happy with the way I've been playing."
Opposing coaches have paid heed, often instructing their pitchers throw around Ledbetter. For instance, in a doubleheader against Leavenworth, Ledbetter was intentionally walked with runners on first and second and two outs. In the regional championship against Washburn Rural, Ledbetter was hit by a pitch the first one thrown with the bases loaded.
"If I'm an opposing coach in that situation, I'd probably put him on, too," Petry said.
One of Petry's greatest fears, though, is not being able to dodge a Ledbetter line drive through the coach's box.
"I don't remember any of his hits that weren't hard-hit balls," Petry said. "I stand there deep in that third-base coach's box, hoping he pulls one foul away from me because I'd never get out of the way."
Ledbetter has caught 20 of Lawrence's 21 games. If an opposing player is hit by a pitch and takes a step toward the mound, Ledbetter quickly defuses the situation by getting in front of the batter.
"He's in control of what goes on," Petry said. "If someone's not doing his job, he's not afraid to let them know about it. These kids look up to him and respect him."
Before being named the head baseball coach last summer after spending two years at Free State High, Petry said he was unsure if he'd even recognize Ledbetter. The first-year LHS coach now knows all about the Lion catcher, who has concentrated solely on baseball since his sophomore year and has played approximately 110 baseball games since the end of his junior year.
"He works hard at it," Petry said. "It's not something he does three or five days a week. He lives, eats, sleeps baseball 24 hours a day, seven days a week. He's never been satisfied."
It took a couple of weeks into the season before Ledbetter sold his coach on his running abilities. Pulled for a courtesy runner early, Ledbetter wound up as the Lions' leader in stolen bases with 14.
"I had to talk coach into it," Ledbetter said of being able to run. "I finally ran one doubleheader. Coach said, 'Stay in there,' and I got the biggest smile on my face. I know I'm a smart baserunner. I think that's the main thing about that part of the game as to what chances to take and not to take. I've picked up some speed this year and have been able to steal bases."
Ledbetter is devoted to the Dave Bingham Baseball Academy at Sport2Sport and credits his work there for his success. Ledbetter will play this summer for the Blue Springs (Mo.) Sluggers, coached by Bingham, a former Kansas University baseball coach.
"In the fall I spent three hours a day at the academy," said Ledbetter, who has signed to play baseball at Garden City but has received recruiting interest from Div. I schools and pro scouts in the past month. "It's made a big improvement in my game. I'm such a better leader this year. It's kept me in the game a lot more and made me a better competitor."
Since playing football his sophomore year, Ledbetter has no regrets focusing solely on baseball.
"If I'm going to make it in any sport, it's going to be baseball," Ledbetter said. "My goal was to play college baseball and then onto the major leagues. I made that decision on my own. I'm happy with the decision I made."
Copyright 2018 The Lawrence Journal-World. All rights reserved. This material may not be published, broadcast, rewritten or redistributed. We strive to uphold our values for every story published.