2030: The Fountain of Youth found.
2020: Cancer cured.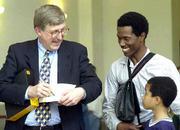 2010: A new era in medicine dawns.
This is the road map of the future expected to unfold with knowledge of the human genetic code, according to the man who heads a government project to decipher the human gene.
"We will understand a lot about the parts list, more than we ever have," said Francis Collins, director of the National Human Genome Research Institute at the National Institutes of Health. "We will have a real opportunity to alleviate human suffering more than we ever have."
Collins lectured Friday at Kansas University on the Human Genome Project. Thursday and Friday, he visited the Kansas University Medical Center in Kansas City, Kan.
Collins said KU might have a role in the "genomics era."
The genome project plans to open "centers of excellence" to carry out genomic medicine research funded by NIH.
"There seems to be a great deal of strength developing in the places I've visited today," he said. "There is some interest in developing them. They would be most welcome."
Collins offered no more information about the centers of excellence program.
Sen. Sam Brownback, R-Kan., who sponsored Collins' visit and traveled with him during the past few days, has said one purpose of the trip is to develop connections between KU and Collins.
Collins said researchers expect to have the human genetic code completely sequenced within three years.
Within 10 years, he said, medicine will be transformed as primary-care doctors evaluate not only specific symptoms but genetic markers for possible future diseases.
Within 20 years, medicines will be designed to take into account a person's genetic structure. In cancer therapy, the genetic code of individual tumors will be known, making cancer treatment more effective.
Within 30 years, scientists will begin testing ways to extend human life span.
But if legal and ethical structures are not in place to protect against misuse of genomics science, widespread protests may take place in the United States and around the world, Collins said.
"There won't be a post-genomics era for a long time," he said.
Copyright 2018 The Lawrence Journal-World. All rights reserved. This material may not be published, broadcast, rewritten or redistributed. We strive to uphold our values for every story published.