Keith Nelson never imagined life without soccer.
"I've always known what I wanted to do and that's play soccer and be a soccer coach," the new Lawrence High boys and girls soccer coach said Wednesday.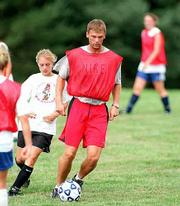 Nelson, a 1991 LHS graduate, was named the Lions' coach last month.
He has spent the past three weeks working with prospective Lion players at Holcom Park.
Approximately 15 boys and 15 girls have attended the twice-a-week workouts. Nelson hopes the sessions set the tone for the upcoming school year.
"I'm going to focus on teaching these kids everything," said the 28-year-old Nelson, who will teach math at South Junior High.
"They're going to play good, hard-nosed defensive soccer. But we're not going to be a defensive team, we're going to be an attacking team because you can't win if you don't attack. My style is tough, blue-collar, but I'm also going to teach them the game. We're going to do a lot of attacking and a lot of scoring. We're going to play to win, not to lose."
Nelson, who's played soccer since he was 5 years old, has impressive credentials. He was an All-American forward his senior year at Baker University. He played professionally with the Kansas City Attack, Chicago Power and Chicago Stingers.
"It was actually one of the best experiences of my life, playing with guys not because of money but because they love the game," Nelson said of his three-year professional career.
Since his pro career ended, Nelson has coached youth and club soccer. He spent the spring season as the girls varsity assistant at Shawnee Mission Northwest.
Familiar with Kansas City area soccer, Nelson realizes there's a gap between Lawrence and the successful Shawnee Mission and Olathe schools.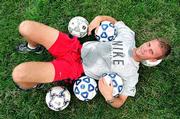 "That is a big challenge," Nelson said. "I think Lawrence is finally doing what needs to be done to close that gap. They're getting quality youth programs, quality youth coaches and that's huge. One of the things I wanted to do was get involved in youth programs here. If you give them coaching as a child, you're going to have kids wanting to be more successful. The other step is getting good high school coaches."
LHS soccer sessions: Nelson's soccer sessions will continue throughout the summer at Holcom Park. LHS boys are meeting 6-8 p.m. Tuesday and Thursday. The LHS girls are meeting at 9-11 a.m. Wednesday and Friday. Nelson urged prospective Lion players to attend the practices.
Copyright 2018 The Lawrence Journal-World. All rights reserved. This material may not be published, broadcast, rewritten or redistributed. We strive to uphold our values for every story published.