Summertime is here, and as the heat and humidity become stifling, the first thing to fall by the wayside in churches is formal dress.
Rather than putting on their Sunday best, more and more Lawrence worshippers don shorts, summer dresses, casual pants, short-sleeve knit shirts and sandals.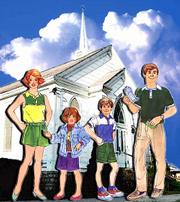 The goal is comfort, and that seems to be just fine with pastors who say they're much more concerned with matters of faith than fashion.
Take Paul Gray, senior pastor of Heartland Community Church, 619 Vt.
His church has two worship services every Sunday, and both have a contemporary format that's well suited to dressing down.
"Very, very seldom will you find anybody in a suit, and once in a great while some men might wear a sport coat or a tie. Most women wear slacks or dresses. But people will occasionally come in shorts, and some wear sport shirts," Gray says.
Contemporary services naturally promote more casual attire, and the whole idea is to help worshippers feel at ease.
"It's to promote an atmosphere that's comfortable. There's nothing in the Bible that talks about dressing up or putting on your Sunday best. That's why we have a contemporary service," Gray says.
Not 'anything goes'
Still, the church doesn't take an "anything goes" approach.
"Wearing a swimming suit would be too casual. T-shirts that have rude sayings on them or cuss words or suggestive pictures, that would cross the line," Gray says.
Worshippers just need to use common sense in choosing summertime clothes for church. That's about all Gray asks.
"If anyone wants to dress up as reflection of their respect for God, that's great. But I'm not going to tell them they should."
For the Rev. Charles Polifka, pastor of St. John the Evangelist Catholic Church, 1234 Ky., the key to casual dress in worship services is striking a balance.
"It depends on how casual you're talking about. Casual in the sense of looking decent and looking like you're at an important celebration, that's OK. You wouldn't come to an important event during the week dressed down," Polifka says.
"I make a distinction between those who are worshipping and those who are taking an official part in the service. They ought to be dressed a little bit more than casual."
It's important for people to feel welcome when they come to church, Polifka says, but they also need to show respect for other worshippers.
People come to services at St. John in blue jeans and sometimes even bicycle shorts. That's all right with Polifka, who leads services in Birkenstocks. But tank tops and baseball caps are too informal.
"Casual clothes are OK as long as they're not distracting and people are respecting what we're doing. If I notice something, it's got to be pretty bad," he says.
'Half naked'
Hot weather's a factor in the clothes worshippers choose to wear to services at Clinton Parkway Assembly of God, 3200 Clinton Parkway.
"I think people dressing more casually in the summer is something we notice, and we have no basic problem with that. We feel that the person is more important than what they're wearing," says the Rev. Ronald Mickley, the church's pastor.
"I have no problem with Dockers and appropriate casual wear. I feel like the clothing issue is one thing that has kept a lot of people out of our various churches throughout the years, simply because they felt they didn't have nice enough clothes to wear."
Worshippers typically dress down for services in the summer at Central United Methodist Church, 1501 Mass.
"We're pretty informal. I wear a tie so people know I'm the minister," says the Rev. Noel Stephens.
Suits and ties are a rarity, and some people wear blue jeans. But you won't find any T-shirts or shorts at the church. Things don't get quite that casual.
Stephens says it doesn't really matter to God whether you're dressed up in formal clothes or not during worship.
He wouldn't say something to a worshipper about his or her attire "unless they came (to church) half naked."
Trade-off
Plymouth Congregational Church, 925 Vt., has a contemporary service at 11:30 a.m. Sunday. Worshippers at that service tend to dress casually, and that includes some people who come in T-shirts and shorts.
"In the 11:30 a.m. service, kids are allowed to be there and make noise, people can wear what they want, and the services are less structured. The idea to is have people feel like they can come how they are," says the Rev. Christopher Grundy, associate pastor.
Casual dress in church has an upside and a downside.
"There's a sense that the cultural message we're sending is that this (worship in church) is more common and less important. There's less distinction between the everyday world and sacred space, so that's a loss in some respects," Grundy says.
"The advantages are the comfort level and the fact that people feel more welcome and less like they are being controlled and restricted in the process. But there's definitely a trade-off there."
Copyright 2018 The Lawrence Journal-World. All rights reserved. This material may not be published, broadcast, rewritten or redistributed. We strive to uphold our values for every story published.