Construction of Lawrence's next steak house is back on the front burner.
Hereford House, the Kansas City, Mo.-based steak institution, plans to open its new 375-seat restaurant this fall at the Wakarusa Crossroads Centre, southwest of Sixth Street and Wakarusa Drive.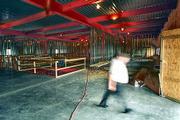 Owner Rod Anderson originally had hoped for an April opening, but engineering backlogs and a design overhaul cooled those plans.
Work on interior finishes started only four weeks ago, and workers on the project don't see things letting up again.
"We're making pretty good headway," said Matthew Connolly, project architect for MDC Architecture in Kansas City, Mo. "It's kind of like the owner is bullwhipping us and the general contractor. We're trying to expedite everything."
The restaurant, with a tentative opening set by Oct. 1, will have room to seat at least 225 people upstairs. That includes the main dining room, five private rooms and a bar.
Downstairs, Hereford House's banquet area will have a separate kitchen and room to seat 150 people for wedding receptions, business meetings and pregame parties.
Lawrence has nothing like it, Connolly said. He calls the decor "Ralph Lauren Western," with leather seating, custom-made chandeliers and cedar timbers in the dining room.
The new design came after last year's July 1 groundbreaking, Connolly said, as planners soon agreed that Lawrence's exploding westward growth and proximity to Topeka would pay even larger dividends.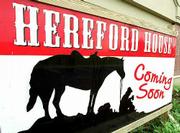 "We upgraded this restaurant to be on par with Kansas City," he said. "We really think that this market is just untapped for that level of a steak house."
J. Walters Construction Co. of Kansas City, Kan., is handling interior work for the restaurant. The overall project is expected to cost up to $2 million.
Copyright 2018 The Lawrence Journal-World. All rights reserved. This material may not be published, broadcast, rewritten or redistributed. We strive to uphold our values for every story published.