Lawrence resident Jean Ogden was talking on the phone a few weeks ago when she noticed a few bees outside the window on her porch.
"I thought it was wasps," Ogden said. "Then I found a bee in the house, and I thought, 'Uh-oh.' I went out and looked and noticed the honeybees entering the porch ceiling."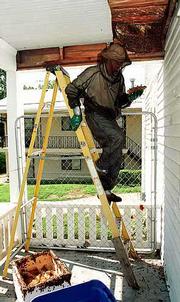 She soon contacted Rheuben Johnson of A-Bee's Honeybee Removal in Gardner to come Wednesday and claim the hive growing in her porch.
Ogden had told her husband, Don, about the bees, and he called K-State Research & Extension-Douglas County with no luck on evicting the insects.
Johnson, a beekeeper, began getting calls from exterminators about a dozen years ago. They didn't want to handle the stinging honeybees they'd find in the walls of homes.
Today, his business removes bees of all kinds from all situations, from Topeka to Warrensburg, Mo., to Texas to Iowa.
"The truckload of honeybees in Platte City (Mo.), where we had to move 500 hives from one semi-truck to another, was certainly exciting," Johnson said.
To remove an average-sized hive from a building, Johnson and his crew, in full beekeeper regalia, pull the honeycomb out in two parts. One part, containing all of the larva, is put into a hive box with the hive's queen. The other, with anywhere from 40 to 100 pounds of honey, is stored to feed the bees through the winter.
"It's really more the comb and the honey that we worry about than the bees," Johnson said. "If we don't get all of that out, it will just keep attracting bees back in again.
A-Bee's gets calls for nearly anything with wings and a stinger. Johnson said he has handled yellow jackets, hornets, carpenter bees and cicada killers this year.
Ogden said Johnson's crew cut a 2-foot-square in the ceiling and pulled out a small hive with hundreds of bees swarming about it.
"They put the comb with the larva into a beehive, which is sitting on our back porch now," Ogden said Wednesday evening. "As the sun goes down, all the bees will go back into the hive, and they'll come pick it up."
Once all of the bees are lured into the hive box, he takes it to his farm to join the nearly 50 other hive boxes he has there.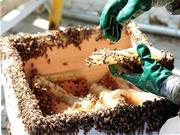 Ogden said no one had been stung yet at her house but she would be glad once the hive box was gone.
"Hopefully we'll get rid of them," she said.
Ogden said Wednesday's 2ur process was costly neither she nor Johnson would say how costly but Johnson says he has plenty of business this summer.
"We have had more bee problems this year than we ever dreamed possible," he said. "If people have an emergency where (bees) are coming into the house, we will prioritize and take care of that problem."
Copyright 2018 The Lawrence Journal-World. All rights reserved. This material may not be published, broadcast, rewritten or redistributed. We strive to uphold our values for every story published.