Raef LaFrentz may be the tallest three-point threat in NBA history.
The 6-foot-11, 240-pound LaFrentz, who hit 13 of 35 three-pointers in his four years at Kansas University, launched 183 threes for the Denver Nuggets last season, converting 60.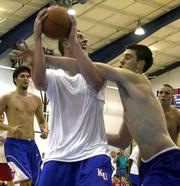 LaFrentz's 32.8 percent mark from beyond the arc figures to rise as the second-year pro continues to work on his outside shot.
"Not really," LaFrentz shrugged Tuesday at Roy Williams' basketball camp, asked if he was out to revolutionize the role of an NBA big man. "That's what they want me to be able to do to stretch the defense, pull some of the centers out. Fortunately I can do that."
LaFrentz averaged 12.4 points and 7.9 rebounds in 81 games last season, LaFrentz's comeback season.
The No. 3 overall pick in the 1998 NBA Draft tore the ACL in his left knee after just 12 games of his rookie season.
What followed was surgery and a long eight months of rehab.
"I feel I had a big bump in the road and I've driven through it," LaFrentz said, noting, "the difference between my first and second season was like night and day.
"I was healthy, able to play an 82-game season. I'm happy about that. The rehab went exceptionally well. I was surprised the way I was able to come back from the knee injury so quickly, to tell you the truth."
He's not favoring the knee.
"During the season, I didn't think about it. I was not that tentative. I'm still working on rehab, getting it stronger for when we report on Oct. 5," he said.
On Tuesday, ex-Jayhawks LaFrentz, Steve Woodberry, Scot Pollard, Jerod Haase, Greg Gurley, Nick Bradford, Sean Pearson and Joel Branstrom beat the current Jayhawks in a lively scrimmage, 80-78.
The ex-Jayhawks erased a 13-point deficit, winning on a three by Wichitan Woodberry.
"It would have been a little more loose and fun, but the young guys were talking so much junk. We had to come up with our A-game," LaFrentz said, grinning. "They had us down pretty good, then our competitive gears started to kick in. At the end we knew what we had to do."
Of KU's returning players, he said, "They just need to keep working hard, stay with the system. This system will take them everywhere they want to go.
"Without a doubt, these young guys can really play. They've got a good core of sophomores. They are looking good," LaFrentz added of sophs Kirk Hinrich, Drew Gooden and Nick Collison, who played Tuesday with Kenny Gregory, John Crider, Jeff Carey and Jeff Boschee. "I watch them whenever they are on national TV, which is quite often."
The 24-year-old LaFrentz, who is engaged to be married next summer, hasn't returned to Lawrence often since he graduated in 1998.
"I couldn't make it back last summer because of rehab," he said. "One thing Lawrence does, it makes you feel a little old. You come back and all the college kids look so young. Watching the games, the fieldhouse make you remember your college days. It makes you miss it a little bit. It's good to be back, good to be able to play. It was fun."

The 2000 NBA Draft is set for tonight in Minneapolis.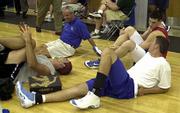 Ex-Jayhawks Lester Earl, Ashante Johnson and Nick Bradford are expected to go undrafted. KU signee DeShawn Stevenson, a 6-5 guard from Fresno, Calif., is expected to be taken in Round One.
Stevenson worked out for the Utah Jazz on Monday. Sacramento, Orlando, Phoenix and the Lakers are also considering taking the McDonald's All-American.
"At first I was apprehensive (about turning pro)," Stevenson told the Deseret News. "But I've been doing pretty well in these workouts.
"I've talked to Kobe Bryant and his dad. His dad told me I made a good decision. I guess he saw me play. . . . He told me, 'Just go out and work hard, just like Kobe.'''
A native of Philadelphia, Bryant did not attend college, turning pro after his senior year in high school.
KU coach Williams watched Stevenson's workout Monday.
Chair of the NCAA basketball rules committee, Williams was in Salt Lake City for a meeting with college conference commissioners.
"He's got a lot of gift. If you start out with the gift he has, then you're starting out ahead of most people," Williams said.

Sacramento Kings forward Pollard says some of Williams' campers have forgotten him.
"Today at lunch, some of the kids said, 'Who are you?''' Pollard said. "I said, 'I am Juan Valdez.'
"One kid said, 'There's Greg Ostertag.' So today I was Greg Ostertag.'''
Pollard was happy to defeat the current KU players after last week's game in which the alums suffered a double-digit loss.
"We lost last week so I called in the Big Dog, Raef," Pollard said.
"No, I didn't call him. He happened to be in town. I just got back from Jamaica. It was great, so cool. I want to go back ... now."
Copyright 2018 The Lawrence Journal-World. All rights reserved. This material may not be published, broadcast, rewritten or redistributed. We strive to uphold our values for every story published.