When children call up a Web search engine such as Google, they're often only a click or two away from sites that could spell trouble.
They can stumble onto pornographic sites that would shock a sailor, chilling hate group home pages or even cyberstalkers posing as other children in chat rooms.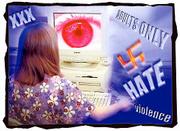 That's where adults come into play, in the form of parents, teachers and even local librarians. All of them can serve as important guides or gatekeepers in the online world.
"The Internet is wonderful and wild at the same time. It has incredible richness to it," says Howard Sypher, a professor of communication studies at Kansas University.
Sypher, also the associate dean of KU's School of Business, specializes in the study of the social impact of new communication technology.
"At the same time, the Internet has an incredible amount of information that ranges ... from hate (group) sites to medical sites to pornographic sites to sites about space exploration."
Software such as Net Nanny or CyberPatrol can block or filter out objectionable material. But parents and other adults still need to be aware of children's Internet comings and goings.
"My guess is that parents often talk with kids about how to deal with money and not talking to strangers. But maybe they don't think very often about when the kids are online," Sypher says.
Limited access
The Lawrence Public Library, 707 Vt., has taken steps to make the Web accessible to both adults and children, while doing its best to steer young patrons toward appropriate online content.
There are two computers in the children's room of the library that have Internet access and more Web-ready computers in the adult room.
The library has tried to make the Internet a safe place for children.
NOTHING BUT NET
Here are some tips
from
CyberAngels.org
, an online Internet safety program, for supervising children's computer use:*
Make sure your child
knows what information can be shared and what cannot be shared with others online.*
Make sure your child
knows never to meet someone in person whom they have met online.*
Keep the computer
in a family room, kitchen or living room, not in your child's bedroom.*
Get to know
your child's "online friends," just as you would all their other friends.*
Warn your child
that people they meet online might not be what they say they are.
"We've created a home page which has selected sites on it. When you open up the screen, there isn't a place where you can look up an Internet address. So it's pretty limited access," says Joyce Steiner, the library's youth services coordinator.
"There's lots of choices -- homework pages, resource sites, game sites -- but there isn't any place for you to do an open search."
Young users can find appropriate sites on the Web quickly and easily. Some kid-friendly search engines are Yahooligans!, KidsClick! and Ask Jeeves for Kids.
"The home page makes it easy for kids to use the Internet, and it's kid-friendly. It doesn't overwhelm them, and they can get to sites that are fun," she says.
"But it's also reassuring for parents; they don't have to worry about their kids stumbling upon something that's inappropriate."
Roaming the Web
Lawrence public schools are also involved in shaping the Internet experiences of their students.
"We're updating our Internet use policy and guidelines. The ones that we did initially are about three to four years old. We feel like it's time to take a look at those," says Beth Welsh, library media coordinator.
"It's good to have guidelines, because the Internet is a huge source of information -- and misinformation. It's overwhelming, and we have to get to good, accurate, age-appropriate sites," Welsh says.
The existing guidelines are pretty simple. An Internet-use permission slip goes home with students, and parents have to sign it. Some schools require using that Internet use be a teacher-led, group activity.
Older students are given more freedom in their time spent online. But there hasn't been much of a problem with any of them roaming around the Web.
"Mostly, kids are very responsible and are doing what they are supposed to. We try to give them good, solid strategies for evaluating Web sites they might come to," Welsh says.
The key to keeping a child safe in the wilds of the Web is to stay in touch with where they're surfing, local experts say.
"Within your own home, parents can often check to see what sort of sites their kids might be browsing. There are ways you can monitor that without the blocking or filtering software. Then it's your responsibility as parents to engage children in conversation about this," Sypher says.
He and his wife, Beverly Sloan, also a KU professor in communication studies and associate dean of the College of Liberal Arts and Sciences, have two children: Ford, 14, and Sloan, 8.
"We currently don't use filtering software. But we have the computer in a pretty public place in our house, and we have a reasonably good idea of what our kids are doing. From time to time, I do check informally just to see what they're up to and what's going on," he says.
Neil Salkind is a KU professor of psychology and research in education who's written various books about technology. He agrees with Sypher.
"Be an active participant in children's (Internet) activity, just as you monitor what they watch on television. But I don't mean (parents should be a) censor," Salkind says.
"You provide them with information about what the Internet has to offer, and that some sites are less desirable than others, and you give them some good reasons why."
Simply forbidding children from viewing certain Web sites won't work.
"The number one way to get kids to do something -- particularly adolescents -- is to tell them don't do it," Salkind says.
Copyright 2018 The Lawrence Journal-World. All rights reserved. This material may not be published, broadcast, rewritten or redistributed. We strive to uphold our values for every story published.