Washington — Despite a $16 billion shot in the arm from Congress last year, the prognosis remains bleak for home health providers still staggering from Medicare cuts in the Balanced Budget Act of 1997.
In the nearly three years since President Clinton signed the law, nearly a quarter of home health agencies have closed their doors. Rural areas are hardest hit: Missouri has lost at least 103 providers, a decline of nearly 30 percent. And the shutdown of 68 Kansas agencies translates to a drop of more than 25 percent.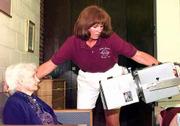 It's not over, said Zachary Evans, president of St. Joseph, Mo.-based Mobile Medical Services Inc. By slashing reimbursements for transportation costs, the historic budget-balancing deal dramatically reduced payments for X-rays performed at a patient's bedside and altogether eliminated fees for portable EKGs.
"This means that I, and other small business providers of portable X-ray services, can't afford to provide a service which is not only safer, more comfortable and convenient to the patient, but less expensive for Medicare," Evans said during a recent House Small Business Committee hearing.
And because the cost of transportation is no longer reimbursed for EKGs, Evans loses $50 each time he travels to perform the heart rhythm monitoring procedure: "Americans would be appalled to learn that EKGs will not be available to elderly rural patients simply because they reside outside the more profitable urban and suburban areas."
The 1997 law was designed to eliminate the federal deficit and safeguard Medicare's trust fund beyond 2002.
"The cuts in home health care were very shortsighted," said Rep. Jerry Moran, who represents western Kansas, one of the most isolated congressional districts. "We need to hold agencies' feet to the fire, but what happened in 1997 went beyond that."
Ironically, without services available in their homes, patients must be taken by ambulance to the hospital.
This essentially means that Medicare cost-cutting is driving up Medicare costs, providers argue. Average cost of an X-ray done in the home is $87, while ambulance fees for the same patient would be $420, said Norman Goldhecht, who owns a portable radiology service in New Jersey.
White House officials announced last week that they will seek $21 billion so Medicare can pay health care providers more over the next five years.
The request is among several items expected on a wish list the White House will send Congress later this month, along with new estimates that government surpluses accumulating during the next decade will be more than twice as large as previously predicted.
Lawmakers from both political parties have introduced a variety of bills that would restore some Medicare payments. Last fall, they voted for a $16 billion increase, but there is broad agreement that was not enough.
"We chiseled away at the problem, but the big rock is still there," Moran said. "My guess is, the changes are going to be incremental, because every change costs money."
Copyright 2018 The Associated Press. All rights reserved. This material may not be published, broadcast, rewritten or redistributed. We strive to uphold our values for every story published.