Sprawling intergenerational sagas have not been doing that well in primetime of late. Remember "Trinity" on NBC? Didn't think so. "Resurrection Blvd." (9 p.m., Showtime, TV-14, D, S, V) presents the Santiagos, an East Los Angeles family with a long tradition of boxing. Tony Plana stars as Roberto, the hard-driven patriarch who prays every day to a shrine to his dead wife. He's raising three strong-willed boys, Carlos (Michael DeLorenzo), an up-and-coming middleweight boxer; Miguel (Mauricio Mendoza), a serious older brother; and Alex (Nicholas Gonzalez) a medical student at UCLA. He also has two daughters, the prim secretary Yolanda (Ruth Livier) and the saucy Victoria (Marisol Nichols), a high-school student on the verge of turning bad. With Roberto's wife in the grave, his sister-in-law, Bibi (Elizabeth Pena), is around to help raise the kids while caring for Roberto's brother, Ruben (Daniel Zacapa), left brain-damaged by his years in the ring. Comic Paul Rodriquez stars as a boxing promoter and Cheech Marin appears as Roberto's boss.
This earnest, yet unremarkable feature-length pilot begins to lose credibility when the pre-med Alex re-enters the boxing ring to take the place of Carlos after a violent mishap. With so much testosterone flowing through the Santiago household, it's no wonder that the female characters, particularly Pena's feisty yet sensible Bibi, are the most nuanced and interesting. Showtime is justly proud to promote this series as the first to feature Latinos both in front of and behind the camera. The first episode is directed by Jesus Salvador Trevino. While ethnically ground-breaking, "Resurrection Blvd." revisits many dramatic cliches as old as Hollywood itself.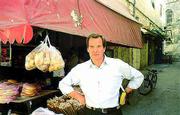 There's nothing less cool than trying too hard to be hip. That's the most that can be said for "Spy Groove" (9:30 p.m., MTV), a new animated series about two spies (Agent 1 and Agent 2) who scour the world trying to prevent bad fashion. The opener takes place in Miami's terminally trendy South Beach. With it's retro look and flat animation style, "Spy Groove" makes you appreciate just how much better "The Powerpuff Girls" works with a similar style and G-rated material.
Other highlights
The repeat of the documentary, "Lost at Sea" (7 p.m., ABC) chronicles the loss of a commercial fishing vessel in 1991, the basis for the book "The Perfect Storm."
Peter Jennings hosts "The Search for Jesus" (8 p.m., ABC), a look into known historical evidence about the life of Jesus.
The Bowler women learn to appreciate shampoo and rue the fact that it was not around a century ago on "1900 House" (8 p.m., PBS, part 3 of 4, TV-G).
Scheduled on "48 Hours" (9 p.m., CBS): the murders of senior citizens alarm a small town.
A shoot-out sparks a racial incident on a repeat of "Third Watch" (9 p.m., NBC, TV-14).
Series notes
On back-to-back episodes of "King of Queens" (CBS), Arthur's party is a bust (7 p.m., TV-PG, L), and Doug's delicate condition (7:30 p.m., TV-PG) " Kelso's blues inspire his songs on "That '70s Show" (7 p.m., Fox, TV-PG, D, L) " On back-to-back episodes of "The Parkers" (UPN), fat jokes hurt (7 p.m., TV-PG), and Nikki looks back on "The Parkers" (7:30 p.m., TV-PG) " The twins' first birthday on "7th Heaven" (7 p.m., WB, TV-G).
Mom thinks she is cured on "Titus" (7:30 p.m., Fox, TV-PG, L, S, V).
Best-laid plans on "Everybody Loves Raymond" (8 p.m., CBS, TV-PG, D, L) " Ally suffers from hallucinations on "Ally McBeal" (8 p.m., Fox, TV-14, D, L, S) " J busts his budget on "Grown Ups" (8 p.m., UPN, TV-PG) " Liz protects Max's secret on "Roswell" (8 p.m., WB, TV-PG, V).
John plays host on "Becker" (8:30 p.m., CBS, TV-PG, L) " Bad roommates on "Malcolm & Eddie" (8:30 p.m., UPN, TV-PG).
Copyright 2018 The Lawrence Journal-World. All rights reserved. This material may not be published, broadcast, rewritten or redistributed. We strive to uphold our values for every story published.