If emotions translated wins to smiles and losses to tears, the obvious guess would be that Lawrence's Raiders never made it to the championship game of the Al Ice Memorial baseball tournament.
Carl Brooks cried Sunday at Hoglund Ballpark after his Raiders beat Ponca City, Okla., in the semifinals.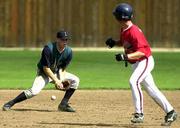 He was smiling after the Raiders' 10-4 title loss to the Wichita Bandits.
"Of course we're disappointed," said Brooks, the Raiders' skipper. "But too many times people let losing the final game spoil all the successes they've had. We're not going to do that."
For the tourney's first six games, the Raiders manufactured runs when they needed them with various players emerging as heroes.
In the championship, however, Lawrence left the bases loaded three times.
The clincher was the sixth inning, when the Raiders scored only once to cut the deficit to 7-4, despite having three on base and one out. The Bandits robbed Jimmy Hahn of a run on a force-out at home plate when the catcher scooped a low throw from the third baseman. Pitcher John Norris struck out the next batter to end the inning and strand the three baserunners.
He had accomplished the same feat in the third inning. After entering as the Bandits' third pitcher, Norris fanned the first three batters he faced and six total.
"We just couldn't catch up to him," left fielder Rob Scott said. "He was bringing heat."
The Bandits had more arms to throw at Lawrence in the final.
But that's not why Brooks was crying.
The typically calm Raiders skipper lost his composure after the semifinal when Scott, who broke his nose Saturday during a football game and is scheduled for surgery Thursday, pinch-hit late in the semifinal.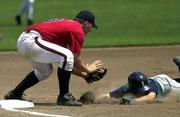 Bo Blevins and Nolan Samuels set up their nearly-fallen teammate by bunting to get on base.
"The fielders were play back and they didn't expect it," Brooks said. "It was like taking candy from a baby. It's also one of my proudest moments as a coach. (Bo and Nolan) did that on their own.
"But I could barely look at Rob and give him signals when he got to the plate. That two guys would do something to assure a teammate an at-bat is remarkable unselfishness."
Scott, who said he was "on all sorts of painkillers" and sported a bruised eye, started the final. He went 0-for-3 with a walk. On a few occasions, pitchers threw high and tight at him, causing him to turn away from the plate and wince.
"I didn't want to get hit again," Scott said. "I'd be lying if I said it wasn't on my mind. But I wanted to play."
Nick Kastl carried a no-hitter into the seventh inning.
"I knew what was going on," Kastl said. "Guys wouldn't stop pointing it out to me."
A series of bloop hits and errors almost erased the effort in the final inning. Clinging to a 7-4 lead with two outs and the bases loaded, Eric Peterson replaced Kastl and struck out his only batter on four pitches.
Lawrence fell behind 7-3 in the second game after Wichita's four-run sixth inning. Wichita's final spurt was too destructive to overcome.
"The air went out of our sails at that point," Brooks said. "We had a lot go our way this weekend. That's baseball."
Nothing to cry about.
All Tournament Team
Nick Kastl, p, Raiders
Jimmy Hahn, 3b, Raiders
Nolan Samuels, of, Raiders
Brad Pohl, of, Outlaws
Bryan Coppock, ss/p, Ponca City, Okla.
Jerrod Spears, c/p, Ponca City, Okla.
Jesse Mason, of, Arkansas City
Matt Tate, c, Arkansas City
Jonathan Tackett, ss, Tulsa Memorial
Jake Bunch, 2b, Claremore, Okla.
Jake Flores, c, Wichita Bandits
Nick Blasi, ss/of, Wichita Bandits
Copyright 2018 The Lawrence Journal-World. All rights reserved. This material may not be published, broadcast, rewritten or redistributed. We strive to uphold our values for every story published.