Summer is the time of year when house-hunting blooms.
Before you target neighborhoods and walk through potential "next" homes, it's a good time to consider possible surprise costs.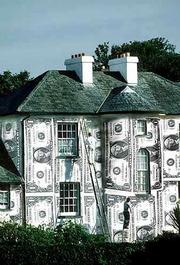 Example: Ann Goad says her family's big surprise expense after moving into their Evansville, Ind., home last year was landscaping.
She and her husband, Keith, upgraded much of the standard fixture and appliance package before they built. But they assumed the landscaping included by the developer would be adequate. It wasn't.
"They didn't do a very good job, we had to update the yard," Ann Goad said. It cost an extra $450, she said.
Kathy Briscoe, co-owner of F.C. Tucker/Huber Realtors of Evansville, says a more common and often much larger surprise expense grows out of the shock felt by some buyers the first time they see their newly bought house when it's naked.
"Most of the time, people look at homes that are furnished," Briscoe said. Often buyers see furnishings of the seller that are "just right" for the place, and they won't rest until they acquire something similar.
"So they go out furniture shopping," Briscoe said.
Secrets to saving
The first step in saving money is to identify the costs you can eliminate or do yourself.Try to decorate your new home around the furniture you already have.Routine maintenance:Painting exterior trimFurnace and water heater cleaningOutdoor repairs, such as cleaning gutters and windowsMoving: If youve got a few friends who can pitch in, rent a 24-foot truck, make promises of food and drinks afterward, and youre in business.
"That's what costs money."
Sometimes, there's the temptation to jump into redecorating.
Briscoe said she has tried to "cushion the blow" by encouraging prospective buyers to envision how rooms will work with furnishings they already own.
Homeowners also need to consider potential jumps in real estate taxes and insurance as results of moving up.
Let's say you're selling your current home for $90,000 and are about to buy a place across town for $120,000.
The assessed value of homes is one-third of their purchase prices, or in this case $30,000 and $40,000 respectively.
It's also important to look for the right insurance policy.
"What you want to look for in a homeowner policy is replacement cost (instead of cash-value coverage), if you can get it," Calloway said.
Closing costs and changes in monthly payments on a mortgage loan are obvious factors to consider.
Copyright 2018 The Lawrence Journal-World. All rights reserved. This material may not be published, broadcast, rewritten or redistributed. We strive to uphold our values for every story published.