Wilmington, Del. — Juli Inkster turned in a repeat performance in every way but one Sunday in the LPGA Championship.
She was too tired to dance.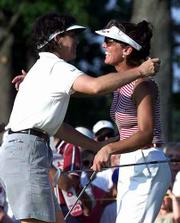 When Inkster tapped in for par on her 20th hole to end an exhausting, gut-wrenching afternoon, she whipped her putter over her head, wrapped up her 10-year-old daughter in her arms and whispered to Hayley, "I'm getting too old for this."
One day after she turned 40, Inkster became the first player in 16 years to defend the LPGA Championship.
Despite a 4-over 75, the highest closing round by an LPGA champion in at least 25 years, she executed the right shot on a key moment to beat Stefania Croce of Italy on the second playoff hole.
"At this point in my career, just winning a major is what it's all about," Inkster said. "It means a lot to me, just to prove I can still play with these girls. I work hard at the game. I love the game. I love competing. It's in my blood."
On a day of survival, the 27-year-old Croce had the right idea. She got out of the way with a 69 to finish early at 281, then waited for everyone else to come back to her. Inkster obliged by hitting into the bunker on the 18th and missing a 6-foot par putt.
"I thought 4 under would win," Croce said. "So, even though I lost, I still had a good time. I tried to win, but I don't feel that bad."
Wendy Ward, who shared the 54-hole lead with Inkster, called a one-stroke penalty on herself when her ball moved as she stood over a par putt on the 13th hole. She wound up one stroke out of the playoff.
"I don't feel like I lost the tournament because of that one shot," said Ward, who bogeyed the 18th for a 76 that put her at 282. "I made a number of poor swings that I would say cost me the tournament."
A year ago, Inkster won the LPGA Championship on a softer, more forgiving Dupont Country Club course with an eagle-birdie-birdie finish. That victory allowed her to join Pat Bradley as the only women to complete the modern Grand Slam, and she let loose with jig on the 18th green.
This was her sixth major, as many as any other active player on tour, but she had nothing left for a dance of any kind.
"I didn't have any reason to dance," Inkster said. "I was too tired."
She had enough strength left to scoop 6-year-old Cori into her arms, and hoist another major championship trophy over her head.
Inkster became the first player since Patty Sheehan in 1983-84 to successfully defend the LPGA Championship.
This one might have aged her.
''It means a lot to me, just to prove I can still play with these girls.''
Juli Inkster
Leading by three strokes with five holes to play, Inkster hit three trees to take double-bogey on 14, then missed the par putt on 18.
No shame there. Only 10 players broke par, the course played nearly three strokes over par and the final 10 players on the course averaged 74.4.
Ward finished tied with Se Ri Pak (71) and Nancy Scranton (73).
Karrie Webb, going for the second leg of the Grand Slam and her third straight major, was 4 under through eight holes until she started missing fairways. Webb had a 73 and finished at even-par 284.
"It was a survival test out there," Inkster said.
Indeed, the back nine turned into a series of train wrecks.
Scranton was tied for the lead until she took double-bogey from the trees, missed a 3-foot par putt and found the trees again for another bogey.
Ward, who got to 8 under early in the round, was standing over a 10-foot par putt when her ball moved slightly and she lost a stroke without hitting it. She missed the putt for double-bogey to drop to 2 under.
Webb, trying to claw back into contention, took bogey on the par-5 9th and double-bogey on the par-5 16th, two of the easiest holes on the course.
The only easy part for Inkster on a tough, blustery afternoon was the end.
Croce overshot the 10th green with a 9-iron and had to chip from thick rough to a green that sloped away from her.
"Tough, tough," Croce said. "I tried."
The ball went 20 feet by and she missed the par putt, while Inkster had 15 feet from the collar for birdie, and lagged the putt to inside 2 feet.
Inkster won $210,000 for her 24th career victory. She already qualified for the Hall of Fame last September, but this moved her into truly elite territory. Among active players, only Sheehan, Bradley and Betsy King have won six majors.
For Ward, it was the second time this year she has had a ball move on the green and had to call a penalty on herself.
Ward recovered with a 15-foot birdie on the 14th, and Inkster's seemingly invincible lead was down to one with her double-bogey. That set the stage for another thrilling finish not of eagles and birdies, but pressure-packed pars on a steamy Sunday of survival.
Croce and Inkster both two-putted from long range on the first playoff hole, No. 18, and Inkster finally closed out victory on No. 10.
Copyright 2018 The Associated Press. All rights reserved. This material may not be published, broadcast, rewritten or redistributed. We strive to uphold our values for every story published.