A group seeks to form new band of river guardians for the Kaw and an alliance with Robert F. Kennedy Jr.
As he paddles the Kansas River, canoeist Mike Calwell doesn't mind facing obstacles such as floating sticks, trees and quirky currents. But because the river is so dirty, he must avoid drinking or falling in its water. And that impediment to his river trips angers him.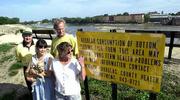 "I guarantee you if I go out in the Kansas River and don't wash my hands and then eat a sandwich, I will get diarrhea," said Calwell, president of the Kansas Canoe Assn. and Friends of the Kaw board member. "It makes my blood boil."
Calwell and fellow Friends of the Kaw, a nonprofit 250-member group, say they are tired of Clean Water Act violators and the inability of state and federal environmental regulators to punish them. Now, Friends of the Kaw is looking to join forces with a national group famous for litigating against river polluters.
The Friends, who have lobbied for greater public access to the stream and against dredging, say they're ready to leave behind their warm-and-fuzzy ways to become fiercer advocates for the stream they love.
Before the summer is over, they plan to formalize affiliation with the Water Keeper Alliance, a national federation of organizations that defend rivers and prosecute river polluters. The alliance's president is attorney Robert F. Kennedy Jr.
"This is a big step for us," Calwell said. "We need to get tough."
The alliance
The national alliance was spawned in 1984 by Riverkeepers, a group formed to push cleanup of New York's Hudson River. The Hudson is now considered a blueprint for pollution cleanup. Kennedy and his legal staff have prosecuted more than 100 environmental lawbreakers on the Hudson in those 16 years.
"He is a $400 an hour lawyer with a name," Calwell said. "The only way to stop river polluters is to sue them, unless they have a conscience, and they don't."
State river keeper groups are independent, self-sustaining organizations that handle most of their own fund raising, river cleanup and legal issues. But, if the legal issue is large enough, Kennedy's all-star team comes to bat.
"There is always the threat that he (Kennedy) can come help out," said alliance field coordinator Murray Fisher. "That is an important threat."
The alliance has 47 keeper programs in the United States and one each in Canada and Costa Rica. Friends of the Kaw is poised to become the 48th in the United States.
Friends of the Kaw board members will vote on the alliance at a July 11 meeting. The Friends also must secure official acceptance from the national group.
With the majority of its programs near the East and West coasts, Fisher said the alliance is seeking a stronger Midwest presence. There are no river keepers in Nebraska, Missouri or Kansas.
I guarantee you if I go out in the Kansas River and dont wash my hands and then eat a sandwich, I will get diarrhea.Mike Calwell, a Friends of the Kaw board member
"We are anxious to work with groups from the Midwest," Fisher said.
Heavy pollution
Pollution of Kansas lakes and streams, particularly the Kaw, is well-documented.
On the north levee of the Kansas River in Lawrence, a sign reads: "Regular consumption of bottom-feeding fish from this area may present long-term health problems."
In 1997, American Rivers named the Kansas River the sixth most polluted river in America.
"I wouldn't argue with that," said Leonard Ferrington, 52, director of water quality and fresh water ecology at the Kansas Biological Survey.
Ferrington has studied pollution in Kansas rivers, specifically its effects on aquatic insects and fish, for 20 years. He said pollution comes from a variety of sources, including municipal and industrial wastewater plants, livestock waste, and runoff from herbicides. The latter two come from agriculture.
Charles Benjamin of Lawrence, president of the Kansas Sierra Club and Kansas Natural Resources Council, place a large portion of the blame for the dirty Kaw on the agriculture industry.
Benjamin said farmers use Atrazine to kill weeds in corn. Atrazine is a highly soluble chemical that has been shown to decimate plant life that fish need for eating and breeding, and has been classified a "Class C" carcinogen.
Regulatory failure
Benjamin also faults Kansas Department of Health and Environment and the federal Environmental Protection Agency. He said neither punishes Clean Water Act violators like it should.
The groups Benjamin represents have won two lawsuits against the state and EPA.
In 1998, Sierra Club and the Natural Resources Council settled a lawsuit with the EPA and the state after Kansas agreed to comply with Clean Water Act standards requiring the agency to set daily limits for acceptable pollution on all Kansas streams. The state agreed to begin the process in the Kansas-Lower Republican River basin.
In May, the environmentalists settled a second lawsuit over water quality standards after EPA agreed to otherwise toughen oversight of Kansas compliance with federal clean water law.
"We intend to continue pursuing legal remedies until the Clean Water Act is fully implemented in the state of Kansas," Benjamin said. "Whatever it takes."
But despite those successes, Benjamin said, the powerful Kansas agriculture lobby makes gains for environmentalists a constant struggle.
Fear of farm lobby?
Calwell said he thinks KDHE officials fear the consequences of punishing agriculture for pollution.
"Because it is a strong agriculture state, they (KDHE officials) are subject to influence," Calwell said. "I think if they were to go against the grain, people would lose jobs."
KDHE spokesperson Sharon Watson wouldn't confirm or deny agriculture-induced timidity at the agency. But she agreed it was difficult for the agency to balance agriculture concerns with those worried about pollution.
"There is a struggle to find a balance that allows agriculture to do what they need to do and making sure water is clean so the public can benefit for drinking and recreation," Watson said.
Calwell said groups such as Sierra Club, Water Keepers and Friends of the Kaw can be more effective curbing pollution than KDHE.
"We have more power as free agents than KDHE does as a huge, bureaucratic agent," Calwell said.
Ag response
Spokesmen for the agriculture industry deny it is the main polluter of Kansas rivers or that it resists efforts to clean them up.
The filth of Kansas streams "has obviously been blown out of proportion in regard to other states," said Mike Beam of the Kansas Livestock Assn. "Kansas has no more of a problem than any other state, in fact it probably has less pollution. But we just have more data."
In other words, Beam asserts, Kansas streams are no more polluted than those in other states. They just seem so in government reports because Kansas regulators better document pollution than do their counterparts in other states.
"It is unfair to point the finger singularly at agriculture," said Patty Clark of the Kansas Farm Bureau. "Agriculture is, was and always will be the first steward of the land. If we don't care for our land and water it will not be there for the next generation. We are committed to taking care of the environment."
Is agriculture indeed the culprit behind the state's dirty streams?
"I would caution against drawing those conclusions," said Mike Matson, spokesman for the Kansas Department of Agriculture. "Kansas is and always will be an agriculture state."
Apathy
Another tool the alliance likes to use is promotion of river recreation. If people use their rivers for fishing, canoeing and swimming, they will want them cleaned up and kept clean, Fisher said.
But according to Ferrington, the general Kansas public doesn't care about rivers.
Ferrington, who is leaving Kansas University for the University of Minnesota, said other states use rivers for recreation to create a greater economic value for the state. Thus, people strive to take care of the river.
"By and large people in the state don't use the Kansas River that way," Ferrington said. "It doesn't have the same worth for recreation and consequently we don't worry as much. There is a whole different mindset here. That is the best way to sum it up."
For all that, Calwell said he remained optimistic that one day he will paddle down a clean Kaw.
"I think in two to three years, we could clean it up," Calwell said. "It will take a little bit of war, a little bit of sugar, a little bit of vinegar. But we will get it done."
Copyright 2018 The Lawrence Journal-World. All rights reserved. This material may not be published, broadcast, rewritten or redistributed. We strive to uphold our values for every story published.