A Lecompton woman has saved nearly 4,000 obituaries, some dating back to 1854, in an effort to keep pieces of history alive.
After researching one side of her family tree, Iona Spencer, who is active in genealogy and Lecompton history, also set about trying to restore a small, nearly forgotten cemetery in 1997.
Several years ago, Sara Walter, a long-time area teacher, told Spencer about Lakeview-Crowder-Lewis Cemetery, which sits on an acre on a hill east of Lecompton.
The land was donated in the 1870s by Thomas Crowder to blacks as a place to bury their dead because they weren't allowed to buy plots in other cemeteries, Spencer said.
Since Spencer, 75, first heard of the site, she has compiled mounds of records from the black church near Lakeview that was disbanded in the 1950s after massive floods. She helped lead the first cleanup efforts of the cemetery three years ago.
"It was four degrees below zero," she said. "We had no idea it was going to be that cold.
"It was a mess out there. We had eight piles of brush and burned one pile just to keep warm. It's been worth it just to see how pretty it is," Spencer said.
In May 1998, the cemetery was rededicated after nearly 50 years of neglect. At least 50 people were buried there many from the Lewis family between 1879 and 1940.
Next weekend, descendants of the Lewis family some who still live in Kansas will converge in Lecompton.
"The Lewises get together once a year for family reunions," Spencer said.
The family members will tour the Clinton Lake Museum, Territorial Capitol-Lane Museum and Constitution Hall. The group also will visit the Democratic Headquarters, which is by the Kansas River north of the Lane museum.
Most importantly, the Lewises will take a moment to visit the cemetery.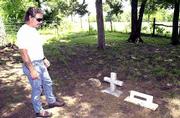 There are no roads to the plots. Visitors must walk or drive across a private field to gain access.
That's why the Lecompton Historical Society, which takes care of the site, seeks the county's help in putting in a road.
"If it's muddy, there's no way to get up there," Spencer said.
The society received $20,250 from the county last year but would like at least $600 more this year to maintain the cemetery. Randy Cheek, who owns land nearby, has kept the cemetery mowed since it was rededicated.
On June 19, Spencer and Mae Holderman, also a society member, asked Douglas County commissioners to consider building the road.
Holderman said she took a group of Boy Scouts to the burial ground in January but had difficulty getting there.
"We walked back in and there is a canyon that's 30- to 40-feet deep," she said.
Chairman Tom Taul said commissioners would have to discuss the road another time, after the 2001 budget is complete.
Even if a road to the cemetery isn't built, Spencer said she will make sure it isn't forgotten again and continue helping people research their family trees. She has helped several of the Lewises learn more about their relatives.
"If you could see their faces and the joy they have, that's what I enjoy," Spencer said.
Copyright 2018 The Lawrence Journal-World. All rights reserved. This material may not be published, broadcast, rewritten or redistributed. We strive to uphold our values for every story published.