Albany, Ga. — When farmer Mike Newberry returns from the fields, he sometimes plows through Web pages for information that could increase his productivity and profits.
Newberry, a cotton and peanut grower in the southwestern Georgia town of Arlington, can find declassified spy satellite photographs of his fields. He can check commodity prices and weather forecasts. He also can read about the benefits of various types of fertilizers and seeds.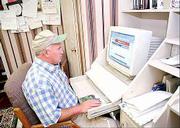 His wife, Sherri, orders books and clothing from online merchants.
"There's no limit to what we'll do with it," Newberry said. "The information is there. Much of it is ag-related."
Now, instead of ordering bib overalls from a mail-order catalog, farmers have access to Web sites where they can purchase everything from tractors to straw hats. While they're logged on, they can chat with other farmers or surf online auctions to potentially sell their corn, cows or pigs.
An Agriculture Department survey last year found that 40 percent of U.S. farmers owned or leased computers, compared with 31 percent in 1997. Twenty-nine percent of farms had access to the Internet, up from 13 percent in 1997.
Warren E. Clark, a communications consultant with Memphis, Tenn.-based Farms.com, said the number of farmers with computers and Internet connections probably has doubled since the 1999 survey was taken.
Farms.com has grown from just a few visitors a month when it was launched in 1995 to about 500,000 per month, Clark said. Its focus is the $180 billion U.S. agricultural industry.
The company's Web page provides weather, news, market information, chat forums, bulletin boards and links to sites that focus on specific commodities. Users also can take part in online auctions and order supplies.
"Farmers in the past have been forced, unfortunately, to buy everything " retail and sell " everything wholesale," Clark said. "What Farms.com does is level the playing field by providing price discovery and price reporting in a neutral environment. The buyer can see what other buyers are offering. Sellers can see what other sellers are selling for."
Stuart Pocknee, a University of Georgia graduate student, has seen firsthand the growth of agricultural Web sites. He has helped generate some of the growth.
In 1996, the Australian-born Pocknee began designing university Web sites focused on precision farming, a type of high-tech agriculture that uses global positioning satellites, aerial photographs and computers to manage fields more efficiently.
Frustrated with the difficulty in finding agricultural information, Pocknee created his own Web service, AgriSurf, with links to nearly 13,000 farm sites. The links cover topics ranging from weather to commodities. Between 35,000 and 40,000 users log on to AgriSurf each month, he said.
"It's basically the Yahoo! of agriculture," said Pocknee. "It's an index, or Web directory of agriculture."
Pocknee's confidence in the future growth of the Internet led him to form a start-up company to manage his Web site and other online enterprises.
He has added AgriSurfer, an e-mail guide to new and interesting developments in agriculture, and FarmPhoto.com, where farmers can post pictures.
Copyright 2018 The Associated Press. All rights reserved. This material may not be published, broadcast, rewritten or redistributed. We strive to uphold our values for every story published.