Theresa and Al Buhler aren't sure whether they adopted their cat or their cat adopted them.
The 9-month-old cat, named Nellie Belle, showed up on the couple's doorstep last year in Alleman, Iowa. She was nearly dead from pneumonia, so the Buhler's took her to the veterinarian for treatment.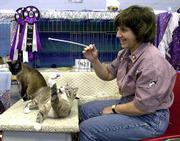 "When we got the vet bill, we didn't feel like we could put her back outside," Al Buhler said.
Saturday, Nellie Belle took third place among short-haired house cats at the 40th annual Kansas City Midwest Cat Club show (KCMCC), held at the Douglas County 4-H Fairgrounds. The show continues from 10 a.m. to 4 p.m. today.
Though the Buhlers also entered a purebred Manx in the show, Al Buhler said the household pet category was more fun because the competition wasn't as fierce.
"Household pets just have to be cleaned and well-groomed and able to be handled by someone other than the owner," he said.
An array of grooming supplies bedecked the table next to the Buhler's cat cage. Pointing to some of the products, Al Buhler said coat gloss brought out the shine in a cat's coat and rum scent lent it an attractive aroma.
Purebred entrants had to meet breed standards or the judges would deduct points from their scores.
Jody Lawson, KCMCC president, said judges would rank the show's 97 entries representing 23 breeds based on characteristics such as face shape and body structure. Sometimes, she said, after judges examine cats and put them back in their cages, they wave a toy to check for playfulness.
"That's not supposed to count in the judging," Lawson said. "But personality plus always helps."
Lawson said owners and judges for the two-day event came from all over the country. The KCMCC has about 12 members who help run the show, which moved from Kansas City to Lawrence four years ago.
Owners adorned their cat's cages with decorative curtains that covered all but the fronts of the cages. Some of the curtains had a theme. Lawson has a Maine Coon named Harry S. Trumaine, so she went with a presidential theme for her curtain.
The owners and judges weren't the only ones who came to the show Saturday. Chris Durflinger and Lynn Chance, both of Lawrence, walked between the cages, browsing the selection of furry felines.
"It's like going to an art show," Chance said.
Copyright 2018 The Lawrence Journal-World. All rights reserved. This material may not be published, broadcast, rewritten or redistributed. We strive to uphold our values for every story published.