It was a clothes call.
Put simply, the members of the Lake Edun Foundation Edun is "nude" backwards don't like them. And they want to convince others to shed their threads.
To further the mission, they joined the Greater Topeka Chamber of Commerce through their treasurer, Webb Garlinghouse, a Topeka businessman who owns the private lake where Edun members hang out.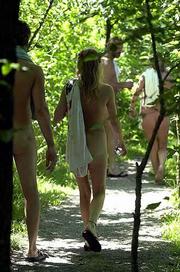 The foundation, which has 125 members and countless visitors, was even going to be host to a long-planned chamber gathering in July at the lake with, for the chamber's sake, their clothes on.
"Oh, we were going to be clothed," said Kelly Shepardson, a Lawrence social worker and Lake Edun president. "We realize that most of the (chamber) members aren't into the naturist lifestyle and we respected that."
Earlier this month, though, chamber officials got cold feet and backed out of the event. They also decided not to allow Lake Edun to place announcements for its own events in the chamber newsletter.
The preacher's wife
Those actions have Lake Edun supporters up in arms. They're threatening to sue the chamber for the costs of printing announcements that weren't sent.
"This is not fair," Shepardson said, "We pay dues like everybody else."
But chamber officials say the bottom line is they don't want to promote the nudist or naturist, as Edun members call it lifestyle.
"We just didn't feel like it was appropriate for us to be, by implication, approving of nudism, really," said Merle Blair, president and chief executive officer of the chamber. "We just didn't want to align the Greater Topeka Chamber of Commerce's name with the whole thing."
Shepardson said the Lake Edun Foundation has been a chamber member for two years.
"We joined because we wanted to lend credibility to our foundation," she said. "Plus we figured it would be a good way to meet with other organizations in the Topeka community and build a rapport with them."
It seemed to work, Shepardson said.
"We've participated in several business fairs and we seem to get a warm response whenever we've decorated tables at their annual meeting," she said.
But Blair said those Lake Edun appearances were a thorn in the flesh. A foundation member, he said, once showed a minister's wife a brochure with pictures of nude people.
"Then she (the minister's wife) called the media, and oh my," he said.
Skintillating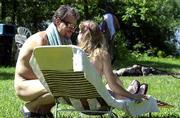 Yes, Blair said, the chamber did agree to hold a "Business After Hours" gathering at Lake Edun but only after foundation members "badgered the heck out of us." As the event neared, officials reconsidered.
"Did you ever decide to do something, then realize it wasn't a good idea?" he said.
Blair's wife jokingly offered to buy him a guitar so that he could go to the event naturally, but with some coverage a leter Sellers as Inspector Clouseau in the Pink Panther movie "A Shot in the Dark." Blair declined to take her up on the offer.
"I'm not going out there, guitar or no guitar," he said.
Shepardson said she can't understand the chamber's qualms.
It was just going to be a picnic, with Lake Edun members on hand to answer questions, hand out brochures and give tours of the property.
What's more, Shepardson said, the naturist lifestyle isn't what a lot of people think it's not about sex. It's about baring one's self mentally, too.
"With clothes you can be whoever you want to be," she said. "When you're going nude, you are who you are.
"Being a nudist, I've met and talked to people that if I had seen them on the street, I probably wouldn't have given them the time of day.
"There's a big element of honesty. When you're not wearing clothes ... you're judging a person for their character."
Not only does nakedness build character, it's also good for business, the nudists assert.
Garlinghouse said research shows "communities with a clothing-optional facility also report improved tourism and an improved business climate."
Blair isn't buying any of that. For him, nudism is just a bunch of naked people. He wants no part of it, for himself or the chamber.
"That's not what the Chamber of Commerce in any city is about," he said.
Copyright 2018 The Lawrence Journal-World. All rights reserved. This material may not be published, broadcast, rewritten or redistributed. We strive to uphold our values for every story published.