When Bert Nash died on Feb. 18, 1947, the people of Douglas County pooled their resources and made certain that Nash's dream was realized with the opening of the Bert Nash Community Mental Health Center in 1950.
For 50 years, community support has continued as the center became a well-known Lawrence institution.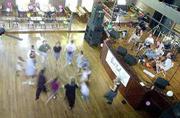 Saturday night at Abe & Jake's Landing, 8 E. Sixth, the center celebrated the half century of mental healing with music, dancing and cake.
"That is what this is all about," said Patricia Roach Smith, Bert Nash community development director. "We are giving back to our community for 50 years of support."
About 500 people attended the event. Eight Douglas County bands kept the partygoers dancing, playing all types of music: old-time string, country, swing, rhythm and blues, funk/soul, rock 'n' roll, folk rock and jazz/fusion.
Roach Smith said Abe & Jake's provided a perfect setting for the event. With a balcony overlooking the Kansas River, people were able to view the in-progress Stan Herd bouquet of wildflowers on the north levee of the river. The rock mosaic commemorates the 50-year anniversary.
"We wanted it to be downhome and friendly so the community felt comfortable," Roach Smith said.
At 7 p.m. a cake-cutting ceremony was held and Nash's daughter, Barbara Nash Mills of Los Angeles, presented a painting of Bert and Ruth Nash that will hang in the center's lobby.
"My father died 52 years ago," Nash Mills said. "I want people to get a sense of who my mother and father were."
An exhibition at the event highlighted Nash's life and the birth and growth of the center bearing his name.
Nash's son, Bob Nash of Evanston, Wyo., praised the guidance of outgoing CEO Sandra Shaw.
"She has carried it far beyond any dream my father ever had," Nash said. "She has meant so much to mental health in this community."
Shaw is stepping down in April 2001 after 20 years as CEO. She has been with the center for 30 years. Shaw said the center has always followed the dreams of Bert Nash.
"All of this is deeply rooted in the spirit in which the center was founded," Shaw said. "The stewards of this center have been continually challenged to be as innovative as Bert Nash."
Shaw said it was a dynamic and exciting year to have as her last. Throughout the year, the center has been holding educational events to commemorate the anniversary.
Later this summer, a dedication of the Herd rock mosaic will be held, and the first Bert Nash Educational Summit will take place at the Lied Center in January 2001.
Copyright 2018 The Lawrence Journal-World. All rights reserved. This material may not be published, broadcast, rewritten or redistributed. We strive to uphold our values for every story published.