A whirl of white ruffles and tapping toes. Even in Friday's warm weather, the lace and sombrero-clad dancers of St. John's Catholic School did not wilt.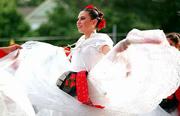 The dancers Los Danzantes de St. John's entertained for more than an hour Friday night at St. John the Evangelist Catholic Church's 19th annual Fiesta Mexicana. This year's fest is dubbed by the church members as "Y2QUE."
Backed by recorded mariachi music, the dancers performed traditional Mexican dances. The dancers, most of whom are children in the church, donned new costumes for each region of Mexico.
Mary Rau, a St. John church member and spectator, pointed to a man behind her in the crowd.
"The whole time his daughter was dancing, she was looking at him. And she was just beaming," Rau said. "That's what it's all about."
More than 300 people will volunteer in two-hour shifts selling food, T-shirts and confetti eggs during the two-day event.
This is the first year the fiesta has been spread across two nights. It's normally held on Saturday. Buddy Langford, fiesta committee chairman, said he decided last year to make the change when he noticed a lot of people showed up Friday night to watch the dancers at their dress rehearsal.
But Saturday night still is the main event.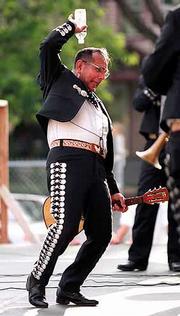 "Tomorrow night it will be a mass of humanity," Rau said, adding that the line to buy the homemade Mexican food served Saturday night always snaked down Kentucky Street.
Loretta Chavez, a church member who helps with the cooking, said she started preparing food in February.
"We make the tamales first, and we freeze them," she said. "Everything else is fresh. The tamales are the ones that sell out first."
Langford estimated that 7,000 to 8,000 people usually milled through the fiesta each year. He called it a turnover crowd: Early evening is a family crowd, middle evening is a more relaxed crowd, and late evening is a party crowd.
"We went through 25 kegs several years ago," Langford said. "Usually 20 kegs is a good night."
Budweiser, a corporate sponsor of the event, sells beer at the fiesta. A mariachi band and a local blues band played Friday night. Several more bands and the St. John dancers will perform today from 6 p.m. to 11 p.m.
The fiesta is a church fund-raiser. Langford said the church brought in $18,000 to $20,000 at last year's fiesta.
Fiesta Fun
Fiesta Mexicana at St. John's, 123 Ky, resumes today at 5 p.m.Music and dance will be from 6 p.m. to 11. p.m.
Copyright 2018 The Lawrence Journal-World. All rights reserved. This material may not be published, broadcast, rewritten or redistributed. We strive to uphold our values for every story published.