A year ago when I first got my review tape of "Iron Chef," I couldn't believe my eyes. Here was a cooking show from Japan with the energy of a sumo wrestling match. I called it "entirely strange and oddly compelling" and "part game show, part cooking show and part 'Godzilla' movie."
Complete with over-the-top WWF style graphics and histrionics, this show pits two top chefs against each other in race against the clock to create a four-star meal from one main ingredient that is only announced at the last minute. The competing kitchen wizards are judged by a panel of commentators who maintain a steady stream of stilted, translated patter as each cook chops, dices and slices ingredients at a furious pace. The results are delicious, bewildering and often hilarious.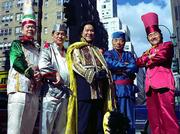 Not surprisingly, "Iron Chef" has achieved a cult status in this country. On Sunday night, the Food Network will air a two-part "Iron Chef N.Y. Battle" (8 p.m.). In part one, the Japanese chefs are welcomed to New York City by acclaimed food critics, Tim and Nina Zagat. They also travel to the Culinary Institute of America and make a guest appearance on the Food Network's ambush cooking series "Door Knock Dinners."
In part two (9 p.m.), things really heat up as the reigning Iron Chef Morimoto is challenged by celebrated New York chef Bobby Flay from the popular restaurant Mesa Grill. While it would be unfair to leak too much information about the battle's outcome, the competition is heated.
While you'd expect a New York audience to pull for their hometown chef, this crowd was filled with "Iron Chef" fans from all over America, so there were plenty of cheers for Morimoto. Four stars to this campy, fun and entirely original import.
Viewers looking for a representative sampling of classic and contemporary rock should not miss "The Best of Hard Rock Live" (11 p.m., Saturday, VH1, TV-PG). The talent ranges from the comparatively venerable Lou Reed to punk veteran Chrissie Hynde and The Pretenders. Most of the acts are from the last decade, including Barenaked Ladies, Natalie Merchant, Paula Cole, Lisa Loeb, Ben Folds Five, Ani Difranco, Blues Traveler and Hootie and the Blowfish.
Saturday's highlights
A really big movie star (Julia Roberts) falls for a sputtering bookstore owner (Hugh Grant) in the engaging 1999 comedy, "Notting Hill" (6 p.m., Showtime). Both stars are typecast to good effect.
Teen pop stars Jessica Simpson and Jason Raize perform in concert (6:30 p.m., Disney).
Scheduled on "48 Hours" (7 p.m., CBS): new reproductive technology.
Eruptions plague a ski resort in the 1997 TV thriller, "Volcano: Fire on the Mountain" (7 p.m., ABC, TV-PG).
Mel Gibson and Jane Horrocks provide behind the scenes look at the new animated comedy on "Poultry in Motion: The Making of 'Chicken Run'" (9 p.m., NBC, TV-PG).
Sunday's highlights
Scheduled on "60 Minutes" (6 p.m., CBS): gays in the military; how cruise lines avoid taxes; profiting from prison labor.
Maggie Lawson, Kathie Lee Gifford and Justin Timberlake star in the repeat 2000 fantasy, "Model Behavior" on "The Wonderful World of Disney"
(6 p.m., ABC, TV-G).
Mulder and Scully wander onto a taping of "Cops" on "The X-Files" (8 p.m., Fox, TV-PG, L, V). A repeat worth watching.
Carrie learns something about her new lover's versatility on "Sex and the City" (8 p.m., HBO, TV-MA, L, S).
Oz (James Whitmore) handles his own defense on a repeat of "The Practice" (9 p.m., ABC, TV-PG).
Copyright 2018 The Lawrence Journal-World. All rights reserved. This material may not be published, broadcast, rewritten or redistributed. We strive to uphold our values for every story published.