Thunderstorms on Tuesday added more than two inches of rain to Douglas County farms, delaying the winter wheat harvest but calming fears of a drought baking summer crops.
Early in the morning of the first day of summer it arrived officially Tuesday evening storms swept across the county, depositing 1.43 inches of water. The rain began around 5 a.m. and continued on and off until 9 a.m. Neither the National Weather Service nor the Douglas County Emergency Management office received any reports of damage or flash flooding.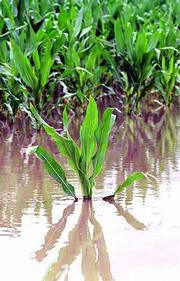 Passing afternoon and evening showers dumped another 1.02 inches on the area, the NWS reported. Franklin County Sheriff's officials said some streets and roads flooded just after 5 p.m. but cleared a few hours later with little damage done.
Douglas County Emergency Management Director Paula Phillips said some low-lying areas did flood in the morning storm, but no roads were closed.
For an area hurting for rain in April and May, the most recent showers have only added to a wet June that pleases farmers.
"You almost feel like the drought has been broken," Douglas County Extension agent Bill Woods said. "It puts a positive attitude back in the farmer. There for a little while, and we weren't getting any rain. There is some hope now."
The dry spring brought only 1.07 inches of rain to Douglas County in April and 2.08 inches in May. Before Tuesday, the Lawrence area received 4.1 inches of rain in June, helping the growth of corn, soybeans and brome grass.
Although those crops needed the rain, the precipitation stalled the winter wheat harvest, Woods said. Statewide, the harvest is 45 percent complete, U.S. Department of Agriculture statistics show.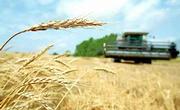 "It was just getting started about a week ago, but it's just too wet and muddy to get into the wheat fields," he said. "The wheat plants pretty well had completely dried up, and are mature. It wouldn't matter if we put fertilizer or water, it won't help the wheat right now. We have to get it harvested as soon as possible."
To do that, Woods said farmers will need about 10 days of warm, dry weather to bring in their crop, which is rated at below average. He estimates that the dry spring created a smaller yield than in years past.
"Our plants had sprouted and grown a bit. Every time we got a half-inch of rain, you could almost see that corn over night grow and then just sit there," Woods said. "Then we started getting rain in this last wetspell. It is going to start filling up some of our subsoil moisture. The plants can go ahead and grow."
The dry spring produced a small hay crop, Woods said, leaving area cattlemen few choices for feeding their livestock. With the June showers, brome grass for feeding the animals has sprung up, lifting those farmers' spirits.
"This rain is really a blessing (for them)," Woods said.
Weather service forecasters predicted an overnight cold front would sweep storm systems out of the area, bringing mostly sunny and warm weather today.
Copyright 2018 The Lawrence Journal-World. All rights reserved. This material may not be published, broadcast, rewritten or redistributed. We strive to uphold our values for every story published.