Last month, state officials fined a Lenexa assisted-living facility $10,000 after a resident died, his head caught in his bed rail.
Two weeks ago, admissions were banned at an assisted-living facility in Hays after inspectors encountered a resident who hadn't bathed for two weeks and who refused to wash his urine-soaked clothing.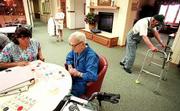 And in Salina last week, an assisted-living facility was told it couldn't accept new residents after inspectors found an occupant who'd lost 10 pounds in 26 days. At least two other residents there had suffered similar, unhealthy weight losses.
In all three cases, facilities were caring for residents who had grown frail and belonged in nursing homes, said Gary Ingenthron, who oversees the Kansas Department of Health and Environment's inspection of the state's 85 stand-alone assisted-living facilities. There are four assisted-living centers in Douglas County; three in Lawrence, one in Baldwin.
"We're seeing this more and more, all across the state," Ingenthron said of the problems.
Since Jan. 1, KDHE has imposed admissions bans at five assisted-living facilities.
Assisted-living facilities are not set up to care for people who need round-the-clock access to medical care or near-constant attention. Those functions are served by full-service nursing homes.
But it's the rare elderly person among the several hundred in Kansas assisted-living centers who wants to move to a nursing home, and caregivers prefer to avoid the heart-breaking task of making them move.
"That is probably one of the most difficult conversations you're going to have with a resident and family members," said Donna Bell, executive director of Lawrence's Brandon Woods Retirement Community.
But assisted-living facilities have an obligation to make sure residents have access to whatever level of care they need, said Dorothy Devlin, executive director at Lawrence Presbyterian Manor.
"We're seeing this more and more, all across the state."
- Gary Ingenthron, Kansas Department of Health and Environment, talking about problems in assisted-living facilities.
"The ethical thing to do in all this is to get or, in some cases, keep the resident into whatever environment allows them to be the most successful," she said. "If that happens to mean having access to 24-hour nursing care, then it's my responsibility to see that they get it."
Setting the standard
Residents sometimes react strongly when advised they need more intensive care. Two longtime residents of Presbyterian Manor's assisted-living facility moved out after being asked to move to the nursing-home unit, Devlin said.
"I'm sorry it happened," she said, "but we did what we felt our integrity required."
That standard, apparently the norm at the Douglas County facilities, is the one health officials encourage others statewide to practice.
For several years, assisted-living facilities had free rein deciding which residents belonged with them. But in recent months, KDHE has enacted regulations aimed at tightening the decision making process.
Now, assisted-living facilities are not to admit residents who:
Are incontinent and unable or unwilling to address their condition.
Cannot exit the building on their own or in a timely manner.
Require more than one worker's help in getting out of bed or moving from bed to a wheelchair.
Need restraints to ensure their safety.
Exhibit unmanageable behaviors.
Closing the gap
"This used to be a huge gray area," said Nancy Stockdale, executive director of Vintage Park, an assisted-living facility in Baldwin.
"But the gap is closing and it needs to close because there are people out there who figure 'If there isn't a rule, then what am I breaking?'" she said. "There need to be boundaries."
Margaret Farley, a Lawrence attorney whose practice includes a focus on nursing-home issues, said she's worried that rather than go through the anguish of telling residents they have to move, many assisted-living facilities will, "in effect, become de facto nursing facilities."
And when this happens as it did in Salina, Hays and Lenexa residents suffer the consequences of inadequate care, she said.
"That's my big fear and I think we're going to see this happening more and more."
Copyright 2018 The Lawrence Journal-World. All rights reserved. This material may not be published, broadcast, rewritten or redistributed. We strive to uphold our values for every story published.