Kansas farmers soon could make a profit by growing echinacea, commonly called purple coneflowers, that grows wild in ditches, prairies and fields.
Researchers at Kansas University and Kansas State University hope to turn that idea into reality. They have applied for individual grant research projects as well as a 5-year, $7.5 million grant from the National Institute of Health to study medicinal herbs.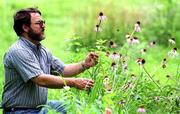 One of those herbs, echinacea, has become a top-selling herb in the United States and has been used to help ward off the common cold.
And the statewide interest in alternative crops has grown.
In 1997, Rhonda Janke, a sustainable crops specialist for K-State Research and Extension, said she held an informational meeting about the topic and expected only 20 people to show. Instead, 100 people came. Today, she has a mailing list with 600 names on it.
Research, analysis
Janke has been studying about 40 herbs for their medicinal crop and profit potential, particularly echinacea, for three years.
"Echinacea is only one alternative crop," she said. "There are dozens and dozens out there. Echinacea can serve as a model."
Janke said researchers want to look for new crops that farmers could raise besides traditional crops such as corn, wheat or soybeans. She said K-State extension offices in Olathe, Wichita and Hays planted 10 plots of herbs this year and will be looking at the growing practices, insects and yield.
"If we get the grant, the summer of 2001 would be the first field season with possible continuation of the project," she said.
Growing the herbs is one of four major parts of the grant.
Janke said Kelly Kindscher, an associate scientist at KU, is collecting different plants across the United States to study and is communicating with American Indian cultures to see how they use medicinal plants.
In addition, Steve Moring, a research scientist at KU's Higuchi Biosciences Center, is going to analyze the plants to identify their chemical compounds. He said he already has some research money for analysis of the echinacea species.
"I am very interested in trying to develop technology that can spin off into industries or small businesses that can employ Kansas citizens," Moring said.
Marketing potential
Moring and other researchers soon will file bylaws establishing the Great Plains Medicinal Herbs Cooperative. Moring said farmers will be able to bring their crops to the cooperative, which will certify them as organic, and help them sell or trade their products.
"I think there's a real potential for farmers to cultivate medicinal herbs," he said. "The problem is finding the right market."
Right now, Moring said the market for natural herb supplements is saturated with echinacea purpurea, which is commonly found in gardens. That's why researchers are looking at other species, such as echinacea pallida and echinacea angustifolia, which are native to Kansas.
"These two particular species actually have higher market value than purpurea," he said.
Moring said the roots of organically-grown pallida are valued at $15-$50 a pound and angustifolia at $20-$70 a pound while purpurea brings in $10-$20 a pound. He said the cooperative possibly could sell or trade the more valuable roots on the Internet.
The two more valuable species are harder to grow because they're affected by a virus, he said.
"If you grow the plants in a more native habitat with native grasses and cultivars, you should have better success," Moring said.
Other herbs carry even higher values.
For example, Moring said ginseng, a rejuvenating herb, is valued at $10-$70 a pound if grown for three to five years. Ginseng's value increases considerably when grown in its natural habitat, a shady and woody area, for 10 to 15 years.
"We're talking $600-$1,000 (a pound) if you find the right market," he said.
The final part of the grant involves the KU Medical Center which will be conducting clinical trials with the echinacea.
Janke said a trial group will be split into thirds and the people will take the echinacea purpurea, the wild or other species or a placebo. She said the purpose is to see "if healthy people got a cold who would have the higher levels of (echinacea) compounds to fight off the cold."
Copyright 2018 The Lawrence Journal-World. All rights reserved. This material may not be published, broadcast, rewritten or redistributed. We strive to uphold our values for every story published.