Philadelphia — Drexel University is poised to become one of the first major universities in the country with a wireless campus.
With the aid of a $175 Ethernet adapter, every student will be able to access Drexel's high-speed network to send e-mail, conduct Internet research, or check class assignments from most buildings, or from outside under a tree. The adapter fits into a laptop computer, providing access to the wireless network.
It's expected that CyberCampus, the university's name for the program, will be completed by the fall.
"A CyberCampus will improve our students' overall college experience by giving them greater freedom and mobility," Drexel President Constantine Papadakis said. "With Internet access from anywhere on campus -- dining halls, outside on campus benches, or in classrooms -- there will also be greater collaboration among students."
Keeping up appearances
He said that the flexibility offered through a wireless system will promote increased technology usage on campus by students and faculty.
"If something is convenient, you can use it more easily and more effectively," Papadakis said.
Unlike personal digital assistants and other devices that provide wireless Internet connections via cellular phone systems, Drexel's network will rely on encrypted radio frequencies that will be transmitted via hubs, and antennae installed on campus that are connected to the university's high-speed network.
Papadakis recalled in an interview last week that Drexel has a history of pioneering technology. In 1983, it became the first major university in the country to require freshmen to bring a computer to school.
"We have a reputation to uphold that we are the most technologically advanced university," he said. "Looking into the future, we feel that wireless computing is going to be everywhere in five to 10 years."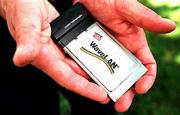 Several universities, including the University of Maryland at College Park and the University of California campuses at Santa Cruz and Berkeley, have been experimenting with wireless technology in recent years. But Drexel's project, which will complete a wireless initiative the university began at its library in 1998, will be among the first to blanket a campus with high-speed wireless connectivity.
Filling in the gaps
Officials at Carnegie Mellon University in Pittsburgh said they expected to have their wireless campus network completed by the end of this month. With support from the National Science Foundation, Carnegie Mellon began work in 1994 on its network, then involving seven buildings.
Called "Wireless Andrew" after industrialist Andrew Carnegie and banker Andrew Mellon, it will encompass 31 buildings and the open spaces in between.
"By the end of this month, we will have nearly three million square feet of wireless coverage," said Tracy Futhey, Carnegie Mellon's vice provost for computing services and chief information officer.
As is true for Drexel, Carnegie Mellon is not adding the wireless service to dormitories. Both schools already provide Ethernet ports for every resident.
Antennae overhaul
John A. Bielec, Drexel's vice president of information resources and technology, said the radio frequencies used by Drexel's wireless network penetrate buildings, connect directly to the university's network, and will not face interference from personal digital assistants or cellular phones. The cost of upgrading the school's network and the wireless system totaled nearly $5 million over three years.
The wireless system antennae, he said, are about the size of an empty paper-towel holder and will be installed above the ceilings in major campus buildings and at spots outdoors.
"They are hardly noticeable," Bielec said.
"We have a reputation to uphold that we are the most technologically advanced university."Drexel President Constantine Papadakis
He said students will be able to purchase the special wireless Ethernet adapters through the same Drexel Web site where they already can select their computers. With the wireless network, the university will provide a big push toward laptops. He expects the wireless network will be especially popular among commuter students.
Demand and supply
Drexel's W.W. Hagerty Library was the first of the university's CyberZones. Later, wireless service was extended to LeBow College of Business and the CyberCafe in the student union building. Bielec said when others began clamoring for wireless coverage, university officials decided to extend it throughout campus.
Carol H. Montgomery, dean of libraries, said that once the wireless infrastructure was in place in the library two years ago, students and faculty could check out one of the 30 laptops they are free to use anywhere in the building.
"It has been extremely popular with the students," she said, adding that the library handles about 2,000 laptop check-outs each month.
"Wireless provides a lot more flexibility," said Thomas Pugh, 28, an information systems major from Mount Airy, Pa., who coordinates the Electronic Learning Center, where students check out library laptops. "You'll be able to go anywhere instead of sitting on a couch, trying to plug into a wall."
Copyright 2018 The Lawrence Journal-World. All rights reserved. This material may not be published, broadcast, rewritten or redistributed. We strive to uphold our values for every story published.