College or pros. Pros or college.
The choice turned over in Curtis Ledbetter's head all last week, and still Ledbetter, a Lawrence High graduate in May who was tapped in baseball's first-year player draft a week ago today, hasn't set his mind either way.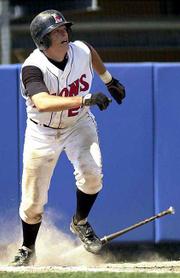 "It is a tough decision for me," Ledbetter said. "It's kind of a common-sense thing. I don't think I'm ready for pro baseball right now, and I talked to a few of my coaches, and basically they agree with me. It's a fairly easy decision. But it's a dream come true being drafted."
Until he went in the 39th round of the draft 1,176th overall to the Cleveland Indians, Ledbetter was headed to Garden City Community College.
A catcher, Ledbetter put up monster numbers last season for the Class 6A state-champion Lions, including school records for batting average (.629), home runs (13) and RBIs (47).
During and after his stellar season, Div. I schools came calling, but Ledbetter was all but sold on Garden City, in part because of baseball's draft-and-follow clause.
The Indians will retain the rights to Ledbetter until just before next year's draft. Thus, he could play a year at Garden City and sign with the Indians next spring. If he goes to a four-year school, Ledbetter would have to wait until after his junior year to be drafted again.
"I've had one (Div. I) offer and I'm expecting a couple of more offers," Ledbetter said. "What I'm telling them is, 'If it's not right next year, I'll sign Div. I.' Basically, they're starting over on the recruiting process, trying to get me next year if pro ball doesn't come through.
"I plan to go to Garden City so I'll be a better baseball player. I'll play every day, get 150 at-bats and play hard. That's what they like to see. They like guys who love the game. I'll play my game, and whatever happens, happens."
The Indians do like the way Ledbetter, the Sunflower League and state player of the year, dramatically improved from his junior to his senior years, and the gusto with which he plays.
"I've known Curtis for three years, and when I first met him, he wasn't a prospect," said Steve Abney, the Lawrence-based Midplains Regional Scouting Director for the Indians. "He made himself into a prospect. He's a guy we had on our list to go see when the season started. Then he started to get the ball in the air and he started making some strides.
"We don't care about stats. Stats don't mean anything at all. What we look at is, does the ball jump off his bat? Does he have arm strength? Does he play the game like we want it to be played? He had everything we look for, and he's not a dog. He's not a prima donna. He's a hustler."
He no doubt hustled in the offseason.
"I really worked hard over the winter," Ledbetter said. "I worked hard on every skill possible, everything from swinging it to speed and everything, and everything came around for me. It really made a big difference, and the scouts and Div. I schools all saw that. They saw that my body had developed, that I wasn't the short, fat guy I was a year ago."
Some of the colleges that recruited Ledbetter told him his future was not behind the plate.
Abney and the Indians, however, beg to differ.
Copyright 2018 The Lawrence Journal-World. All rights reserved. This material may not be published, broadcast, rewritten or redistributed. We strive to uphold our values for every story published.