Tonganoxie — After nearly a month of repairs and recovery from last month's tornado, Tonganoxie residents could use a little diversion.
Luckily, the annual Tonganoxie Days festival starts this morning.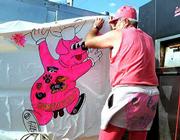 "I think everyone is ready to have a day to relax and enjoy," said Connie Torneden, chair of the Tonganoxie Days Committee.
The 15th annual festival kicks off at 8 a.m. with a 10K/5K run and a 5K fun walk, sponsored by the town's Friends of the Library. The registration fee is $17 per entry or $28 per couple. The run and walk will start at the library, Third and Bury streets.
At 9 a.m., Torneden said, several vendors will begin selling various homemade arts and crafts items and food until 4 p.m. downtown.
"We've got everything from ceramics to crochet and cedar boxes," she said. "You name it, you'll probably find it."
New to this year's Tonganoxie Days are sand volleyball tournaments. They're scheduled to start at 9 a.m. in the city park on Main Street.
Visitors also can hop on a miniature train, made by a man in Mount Vernon, Mo., and ride through downtown.
"Little kids and big kids really seem to enjoy it," Torneden said.
If good barbecue tempts your taste buds, you can stop by the fourth annual Leavenworth County State Barbecue Championship, said Jim Gambrill, one of the contest's organizers.
At least 16 entrants will be smoking ribs, chicken, beef brisket and pork shoulder, which are the contest's four categories, he said. The judging begins at noon. Samples are available, and there also will be barbecued food for sale.
Today's events
All events are downtown unless otherwise noted.8 a.m.-9 a.m.: 10K/5K run and 5K fun walk9 a.m.-4 p.m.: Arts and crafts booths open9 a.m.: Volleyball tournament, city park10 a.m.: Pet parade10:30 a.m.-11:15 a.m.: Star Struck Dance Studio performance11 a.m.: Children's' games begin11:15 a.m.-noon: Cowtown Cloggers performanceNoon: Barbecue judging begins, fairgrounds12:15 p.m.-1 p.m.: Cowtown Cloggers, VFW Park1 p.m.: Motorcycle show judging begins, VFW Park1 p.m.: Demolition derby, fairgrounds1 p.m.-2:30 p.m.: Old Time Fiddlers and Pickers1:30 p.m.: Announce barbecue contest winners2:45 p.m.-4 p.m.: Wild Kountry band3 p.m.: Announce motorcycle show winners, VFW Park3:30 p.m.: Announce Country Cruisers' Car Show winners, VFW Park8 p.m.-11 p.m.: Dance at Shoemaker's Auction Barn, 302 Shoemaker Way, music by Billy Spears
Copyright 2018 The Lawrence Journal-World. All rights reserved. This material may not be published, broadcast, rewritten or redistributed. We strive to uphold our values for every story published.