Buried in the U.S. House Appropriations Committee's budget for Congress next year is a 61 percent cut to the federal depository library program, which provides government documents free of charge to more than 1,337 libraries across the country, including 19 in Kansas, two of which are at Kansas University.
"I'm afraid we're headed for a new Dark Ages at the beginning of a new millennium," said Donna Koepp, government documents and map librarian at KU, which is the state's only regional depository library. It receives all U.S. government documents provided by the Government Printing Office.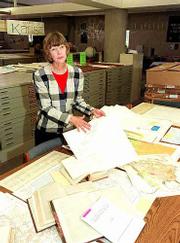 "Public access to government information goes to the core of democracy," Koepp said. "Thomas Jefferson must be rolling over in his grave."
Plan details
Specifically, the proposal, which may be voted on as early as next week, would cut the depository library program budget from this fiscal year's $29.9 million to $11.6 million for fiscal year 2001, which begins in October. It would end the Government Printing Office's mission to print and distribute government documents to depository libraries.
In contrast, the Senate's version of the proposed budget would increase spending for the program by four-tenths of a percent over this year's.
House Republican leaders want information distributed electronically, said Lynn Bradley, government information director for the American Library Assn.
But "federal agencies are not providing all of their documents in an electronic format," Bradley said. "Many documents are provided in a tangible-only format."
And the House proposal makes no provision for distribution of information not already distributed in electronic format.
Librarians say there is a serious drawback to relying solely on electronic documents: They rely on specific software codes to be readable decades or centuries in the future.
Some U.S. government computer files from the Vietnam War are now unreadable, Koepp said, because the source code is lost.
Effects on small business
At a regional depository library like KU, a person can read government documents dating from 1789, such as the first Census report for the United States, which was done in 1790. The documents are useful to a wide range of researchers.
The people most often using the information are small-business people, said Cindy Gyler, government documents librarian at the Johnson County Library in Overland Park.
"American citizens have paid for this information with their tax dollars," Gyler said. "They use it to find jobs and start businesses."
There are 19 federal depository libraries in Kansas.The regional depository library for the state is the Kansas University Government Documents and Map Library in Malott Hall. It receives all government documents provided through the depository library program by the Government Printing Office. All the other libraries only receive a percentage of the documents KUs government documents library receives in a year.KUs Law School Library in Green Hall is also a depository library.The other libraries are: Benedictine College, Atchison; Baker University, Baldwin; Colby Community College, Colby; Dodge City Community College, Dodge City; William Allen White Library at Emporia State University, Emporia; Fort Hays State University, Hays; Hutchinson Public Library; Johnson County Library, Overland Park; Kansas State Historical Society Library, Topeka; Kansas State University, Manhattan; Pittsburg State University, Pittsburg; Kansas Wesleyan University Memorial Library, Salina; Kansas Supreme Court Law Library, Topeka; State Library of Kansas, Topeka; Washburn University Law School Library, Topeka; Wichita State University, Wichita.
She said the most popular items used in Johnson County are the Federal Register, which lists proposed regulations and information on upcoming government contracts.
With the shift to reliance on electronic formats, information may be harder to find, if it is available at all.
Koepp said the Library of Congress is being given loose authority to develop standards for electronic record keeping, but with no clear-cut plan to provide information electronically, private contractors may step in.
The money factor
Already, National Oceanic and Atmospheric Administration charts are printed privately at a price far above the nominal fee that used to be charged. And some agencies' satellite photos are only available through online services. A person can look at them for free. But to download one costs money.
Government agencies can make more money from royalties paid by a private company than from printing fees paid by taxpayers, Koepp said.
Paying for the government information would be impossible for the Hutchinson Public Library.
"About five to seven years ago, I estimated what it would cost to buy all the documents we receive. It was about $15,000 to $25,000," said Cheryl Canfield, head of reference and interlibrary loan at the Hutchinson Library. "I don't have a budget that big."
The Hutchinson Library only receives about 25 percent of the documents KU receives.
The proposed budget cut in the depository library program "would pretty much take away all the government documents we offer to the public," Canfield said.
The effect would be statewide.
"We could never afford it," said Cindy Roupe, assistant director of the State Library at the Capitol in Topeka. "If all the depository libraries in the state got together, we would not have the money."
Frequently, Roupe said, people use paper and electronic copies of information in tandem. Often, they use the paper document to figure out how to read the information in an electronic document.
Though the government documents are made available to the public at no cost, there is a cost to libraries that maintain them.
Koepp said the cost of storing a total collection of more than two million government documents is "tens of thousands" of dollars, not counting salaries for a staff of five people to catalog and maintain the information. As a regional depository library, KU is required by law to maintain the information in perpetuity.
Bradley said Republican leaders are telling GOP representatives that cuts like this one are necessary, if Congress is going to cut spending for executive branch agencies to pay for an election-year tax cut.
"They want to look like they've tightened their budgets," she said.
And the Senate counter proposal offers little hope, Bradley said, because the tradition is to compromise somewhere between the proposals of the two houses of Congress.
"That's still a deep cut," she said.
At least two Kansas congressmen said they would oppose the proposal as written.
U.S. Rep. Jim Ryun, R-Kan., "doesn't want to see the public lose access to their government," Ryun's legislative director Mark Kelly said.
Ryun, the state's 2nd District congressman, favors keeping spending at this year's level, Kelly said.
Democrat Rep. Dennis Moore, who represents the 3rd District, which includes Lawrence, plans on voting against the proposal.
"The way the appropriation's structured now, it would limit public access," said Marc Wilson, Moore's spokesman.
Kansas Congressmen Jerry Moran of the 1st District and Todd Tiahrt of the 4th, both Republicans, were unavailable for comment. Charles Taylor, the North Carolina Republican representative who sponsored the bill, also was unavailable for comment.
Copyright 2018 The Lawrence Journal-World. All rights reserved. This material may not be published, broadcast, rewritten or redistributed. We strive to uphold our values for every story published.