Paris — Investigators probing the cause of the doomed Concorde flight said Sunday that the flames spewing out of the aircraft most likely came from a major fuel leak and that they believe they have found part of a fuel tank on the runway.
The supersonic jet crashed minutes after takeoff July 25 from Paris' Charles de Gaulle airport, slamming into a hotel outside the city and killing 114 people. Even as it was leaving the runway to begin the deadly flight, fire could be seen pouring from the back of the aircraft.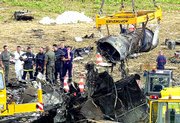 "The flames seen after takeoff did not come from the engine, but, in all likelihood, from a major fuel leak," the Accident and Inquiry Office, part of France's transportation ministry, said in a statement Sunday. The statement said that "one of the pieces found on the runway seems to come from a fuel tank."
If confirmed, the find could bolster the theory that one or more of the plane's tires ruptured on takeoff, spewing debris that pierced a part of the plane near one of the engines and caused a fire.
Also Sunday, Transport Minister Jean-Claude Gayssot called a meeting of international aviation experts to discuss new safety measures before letting Air France resume its Concorde flights.
Specialists from Air France and the French and British transportation ministries were to begin meeting today "in view of an eventual resumption of flights" of Air France's supersonic jetliners, said Jacques Girerd, spokesman for France's civil aviation authority. Experts from British Airways and from engine builders Rolls Royce and Snecma were also expected to attend, Girerd said.
Copyright 2018 The Associated Press. All rights reserved. This material may not be published, broadcast, rewritten or redistributed. We strive to uphold our values for every story published.