For three weeks Katie Sloan worked as long as four hours a day with her quarterhorse, Susanna.
The long hours paid off Saturday at the Douglas County Free Fair's 4-H horse show.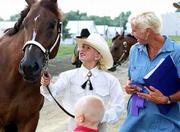 Katie, 10, Lawrence, and her 4-year-old horse walked away as grand champions in the halter competition.
"I've never been a grand champion before," Katie said as she and Susanna stood next to each other afterward outside the arena.
Katie was proud of her horse and how well-behaved it was. The only problems in preparing for the competition were "trotting and sitting up," she said.
Braden Buckley, 11, Baldwin, and his horse, Winkota Skytop, weren't grand champions, but they did earn a purple ribbon in their competition class.
"He just goes out and does his job and he's done," Braden said of the 21-year-old quarterhorse.
While waiting her turn to enter the arena, Dara Shuck, 11, Overbrook, sometimes had to tighten the reins to get her feisty 4-month-old Shetland pony under control.
"This is kind of a test drive to see how it goes," said Dara's mother, Laurie Shuck.
The pony's name is Cutie. "It's the same name of my first horse some 20 years ago," Laurie Shuck said.
There are several keys to watch for in judging horse halter contests, said Danielle Anderson, 22, Holton, who has been judging for more than two years. Among them are balance and leg positioning, muscle tone and the way the neck and head are held.
The start of the fair went well, according to Cathy Brockhoff, 4-H agent for the Douglas County office of Kansas State University Research and Extension.
"It's been very smooth," she said. "We have a lot of long-time volunteers here who know the system."
Roger Flory, president of the Douglas County Fair board of directors, was pleased with the turnout for the show. He estimated that about 250 people were present, which he attributes to the new community building and its accessibility.
"You can come in here easily," he said. "There are no stairs here. I've seen older people here today who had stopped coming because they couldn't get around as well. I'm very happy to see them back."
The Douglas County Free Fair concludes Saturday.
At 2 p.m. today is an open horse show. Numerous activities, including animal and exhibit judging, are on tap every day this week.
.
Copyright 2018 The Lawrence Journal-World. All rights reserved. This material may not be published, broadcast, rewritten or redistributed. We strive to uphold our values for every story published.