Clinton — Residents of Clinton Township sleep better at night knowing that their volunteer firefighters are just a phone call away.
They should be resting even easier now that a second fire station has been completed.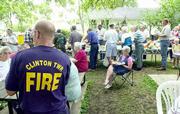 Township residents gathered Saturday evening outside Franklin and Bethany Bidinger's house in Clinton to celebrate their protection.
"It's a thank-you picnic to thank the firemen for always being available," Bethany Bidinger said. "And it's to thank the people for paying their taxes so that we can have this second fire station."
The new fire station, on County Road 458, is 30-by-50 feet. The township just bought its fourth fire truck. It will be able to store trucks at both facilities now, enabling firefighters to cover the township more effectively.
"It's a great improvement for the Clinton Township Fire Department," said Chris Kieffer, one of about 12 volunteer firefighters for the township, which is west of Clinton Lake.
Franklin Bidinger, treasurer of the three-member Clinton Township board, said the second station would bring an extra benefit to township residents.
"We've had a fire station at township hall for a long, long time, but the township is all spread out," he said. "As soon as we get this new one in operation, then peoples' insurance (rates) should drop."
The township erected a second 40-by-60 foot building next to the old fire station to store machinery, such as dump trucks and tractor mowers. The two new buildings cost about $85,000.
Charles Hodges, president of the Clinton Township board, said he was relieved the buildings were completed.
"We've needed them for a long time," he said. "And now we have them."
Copyright 2018 The Lawrence Journal-World. All rights reserved. This material may not be published, broadcast, rewritten or redistributed. We strive to uphold our values for every story published.