The 50 freestyle is, perhaps, the quickest event the Sunflower State Games has to offer.
Sleek and fast, it is the ultimate test of pure speed for most swimmers.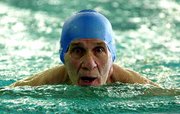 Kevin Graham figured just as much Saturday at Robinson Natatorium, but the event just kept dragging on until he won the championship in the 15-18 boys group.
"It took a little longer than it should have," Graham said. "But I'm glad I won."
First, Graham's times were off. The Robinson pool is measured in yards, not meters, which Graham estimated added three seconds to everyone's time.
"I like the yard pools," Graham said. "That's how I usually measure my times, is in meets like this."
And the event took longer than normal because of a couple of false starts during the first heat. Luckily for Graham, he was in the second heat, which ran flawlessly.
"A bunch of them in (the first heat) swam a lot," Graham deadpanned.
The first heat's initial run resulted in a false start, but most of the swimmers either couldn't hear the horn telling them to stop or they didn't know what it meant.
"If you know what's going on," Graham said, "you should stop. It isn't tough to hear the horn in the water when it's going off that many times."
Usually, Graham noted, a rope is thrown into the pool to notify the swimmers that the race has been stopped. The horn, coupled with fans who could not hear it because they were cheering, created confusion. Several swimmers didn't stop, only to be told when they finished that they would have to swim again.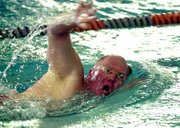 The group received a quick breather after the first mishap, while Graham's heat went, before going again. Same result. Another breather, another run.
By that time, Graham figured he was in good shape. Most of the fastest swimmers of the first heat had already done two unofficial runs at full speed.
"I'm glad I didn't have to be in that heat," Graham said. "I could go three times that quickly, I think, but you've got to be in pretty good shape to do it."
Graham, who will be a sophomore at Topeka West, is no stranger to Lawrence. He practices here often, including a couple of meets like the Roger Hill Invitational which took place at the city's outdoor pool a few weeks ago.
"I like coming here to swim," Graham said. "I like this meet a lot. I just wish there were more kids in it."
The 50 freestyle field included only 11 swimmers, but that did not bother Graham.
"I like going around to other events," he said. "But I like swimming with my friends from school, too."
Copyright 2018 The Lawrence Journal-World. All rights reserved. This material may not be published, broadcast, rewritten or redistributed. We strive to uphold our values for every story published.