There's a gulf in Lawrence.
On one side are the city's American Indians, some of whom think violent or mysterious deaths of American Indians get short shrift from authorities.
"There's never been a sense of taking these things to the point of resolution," said Dave Cade, executive director of the Pelathe Community Resource Center, which serves 3,500 Indians in and around Lawrence. "This kind of undermines the faith of the Native American community in local justice."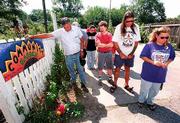 On the other side of the gulf is Douglas County's law enforcement community. Authorities say crimes against American Indians get as much attention as any other crimes.
"We don't investigate things differently because of the color of a person's skin," said Officer Dave Anderson, a spokesman for the Lawrence Police Department. "Why would we do that?"
The divide has come to light again since the April death of John Lowe.
Lowe, 38, a homeless American Indian, was killed when he was hit by a car in an alley behind Community Mercantile, 901 Miss., and dragged 200 feet. His body was discovered in the early-morning hours of April 29.
Growing file
Police say that they have a suspect in Lowe's death and that they sent their reports to the Douglas County District Attorney's Office two weeks ago. Prosecutors say they're still mulling possible charges.
But Cade said the slow pace of the investigation has renewed old concerns among Lawrence's American Indians.
"I get John's friends in here every week asking me for updates," he said. "I'm just more and more frustrated every day."
At his office in the Pelathe center, 1423 Haskell Ave., Cade keeps a file filled with newspaper clippings about violent and mysterious American Indian deaths during the last two decades in Douglas County:
Gregory Sevier died in April 1991, shot by two Lawrence Police officers who said he was lunging at them. An inquest ruled the shooting justifiable, but the city settled a wrongful death lawsuit filed by Sevier's relatives and controversy about the matter continues to this day.
Christopher Bread's body was found in 1990 east of Lawrence, the victim of a hit-and-run driver. It was two years before the driver was found and prosecuted and a jury triggered protests when it didn't convict the driver of vehicular homicide.
In 1989, the bodies of Cecil Dawes Jr. and John Sandoval were found in the Kansas River on separate occasions. Authorities say the deaths were probably accidents, but Cade has his doubts.
"Tell the public we don't want their sympathy, we don't want their condolences, we don't want nothing from them. We just want justice for John."
"These things happen," he said, "and they don't get prosecuted."
Investigative zeal
But it's not for a lack of investigative zeal, authorities say. Douglas County deputies and KBI agents say they spent thousands of hours and trekked across the country in 1991, trying to solve the deaths of Bread, Dawes and Sandoval. They found nothing.
And Lawrence Police officers point to the Lowe case as an example of good investigative work.
Police conducted what they called an exhaustive search, handing out 300 fliers asking witnesses to call their Crime Stoppers tip line. They examined more than 50 vehicles matching the description of the one that hit Lowe before finding the suspected driver.
"It was a detailed and complex investigation," Anderson said.
Now the case is in the hands of prosecutors, who will say only that the matter is "under review."
Assistant Douglas County Dist. Atty. Rick Trapp defended how the office handles cases involving American Indians.
"Any decision to prosecute is not based on who they are, whether they're a minority or not," he said. "It's based on the facts presented in investigation."
Nagging doubts
Lawrence's American Indians particularly those who knew Lowe have their doubts.
Gerald Zephier, 42, knew Lowe well enough to call him "brother." Like Lowe, Zephier is an American Indian and homeless.
Zephier speculates that the case is taking so long because of Lowe's race. He worries he could face the same fate.
"If it was me ... it would take two or three months for them to do something," Zephier said. "But if you've got money ... "
"Or if you're a KU student," added Zephier's friend, a 36-year-old man also homeless and an American Indian who asked not to be identified. "They'd jump all over that. We deserve the same treatment."
Cade said he couldn't believe the driver of the vehicle wouldn't warrant prosecution.
"It wasn't hit-and-run," Cade said. "It was hit-and-drag-and-run."
But Cade also believes Lowe's status made him a victim.
"I think the person who ran over John may have thought, 'This is one I can get away with,'" he said.
"Hopefully, the community is a little more I don't want to say humane realistic about all people having value in the community."
Zephier's younger friend, a fishing cap pulled low over his eyes to hide his emotion about Lowe's death, made a final plea.
"Tell the public we don't want their sympathy, we don't want their condolences, we don't want nothing from them," he said. "We just want justice for John."
Copyright 2018 The Lawrence Journal-World. All rights reserved. This material may not be published, broadcast, rewritten or redistributed. We strive to uphold our values for every story published.